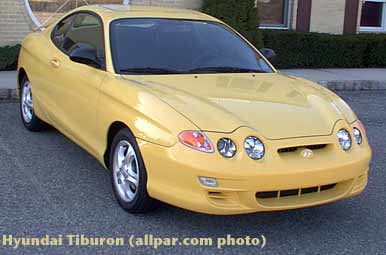 The Hyundai Tiburon is one of the sleekest sporty cars on the road. Low-slung, graceful, and smooth, the 2001 Tiburon is one nice-looking car.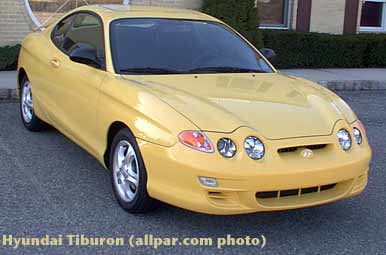 The sporty looks are not a lie, but they are an exaggeration. The 140 hp engine is fairly strong, especially with a five-speed, but it is also noisy at higher rpms. Under the hood is the Elantra's 140 hp engine, which gets very low gas mileage for its class – about ten miles per gallon less than a (faster but compararbly priced) Toyota Corolla! It provides decent pickup, and has enough torque to manage hills and air conditioning at the same time. It won't break any speed records.
There seems to be plenty of room under the hood for a turbocharger or supercharger, for those who would like speed to match the Tiburon's looks. We recommend the easy-to-shift five-speed, with its sensual mechanical feel, over the automatic, which shifts smoothly enough but isn't tuned for performance.
The sporty look is carried on inside the car, where the low seats and low ceilings make the drivers recline (or hit the roof). The rear seat has little space, and tall passengers will find their head touching the window unless they crouch. The trunk is moderately spacious, with a hatchback design that makes it more accessible than traditional trunks. Though it is easy to access the rear seat, the front seats do not return to their original positions, but to a fairly straight default position – a major pain if you use the back seats. There are, at least, child seat anchors, but you need to pass the seat belt through a hole in the deck lid, all the way back to the rearmost part of the car. That's rather inconvenient if you intend to use the trunk.
Handling is good, as you would expect from a car with these looks. It is not spectacular, but most drivers will not test its boundaries. The 2001 model seems to have better handling than earlier models, as well as less noise and vibration around town. Thanks to a small footprint, the Hyundai Tiburon is easy to park. It also has a very tight turning radius.
There is substantial wind and engine noise at highway speeds. Around town, the Tiburon is quiet inside. The vent fan moves a lot of air, but does not make a lot of noise. Over long distances at highway speeds, the drone and, especially, the vibration of the engine becomes wearing.
The interior includes an overhead rack for sunglasses, map pockets, a small optional center console, and slide-out cupholders. The controls are all easy to understand, though the designers opted for a silver-on-black-gears look which is a bit over the top. Buttons and levers have a solid feel, and all controls are well labelled and sensibly placed. We would have liked a cruise control "cancel" button.
The headlights are surprisingly powerful, better than most other cars on the market. The low beams have a sharp cutoff to avoid blinding other drivers, and stay on when the high beams are activated. The high beams cover the entire road well. Fog lights are where they should be, down low and aimed correctly for penetrating fog instead of other drivers' eyes.
For most buyers, the key issue in buying a Hyundai is quality. According to England's WhatCar!, which examines actual repair records of leased cars, Hyundai has moved up substantially in quality, rivalling its Japanese counterparts. For those who are not convinced, Hyundai now offers a variety of warranties, including a five year bumper to bumper plan with roadside assistance and ten years of drivetrain coverage. In brief, Hyundai now has the best warranty on the market. That should give some confidence to new buyers.
Thanks to its shape, the Tiburon is a fun car, even (or especially) at low around-the-town speeds. Good handling and acceleration, a solid feel, and a low price combine to make this car a fairly strong value, by coupe standards. If you do a lot of highway driving, though, you may find its engine vibration to be more than a little annoying and tiring.
Despite its shortcomings, the Tiburon is surprisingly fun – sort of a Korean impression of an old British sports car, or perhaps Hyundai's version of Toyota's version of the Camaro. It is a low cost and surprisingly fun alternative to all those other coupes, but compared with less exciting-looking cars, the value disappears. The Neon is nearly a full second faster getting to sixty, with comparable handling, but much better manners and a larger interior – and a lower price tag. The Corolla, while hardly sporty, boasts far superior gas mileage and similar acceleration, again at about the same price. The Pontiac Sunfire looks sort of sporty, with a more comfortable interior and good ride, handling, and comparable acceleration. In short, there are lots of worthy competitors – though none come close to having the sporty looks and sports-car-like sound effects of the Hyundai Tiburon.
Note: Hyundai Tiburon front view photo slightly retouched for this car review – license plate holder holes and electronic photo artifacts removed.