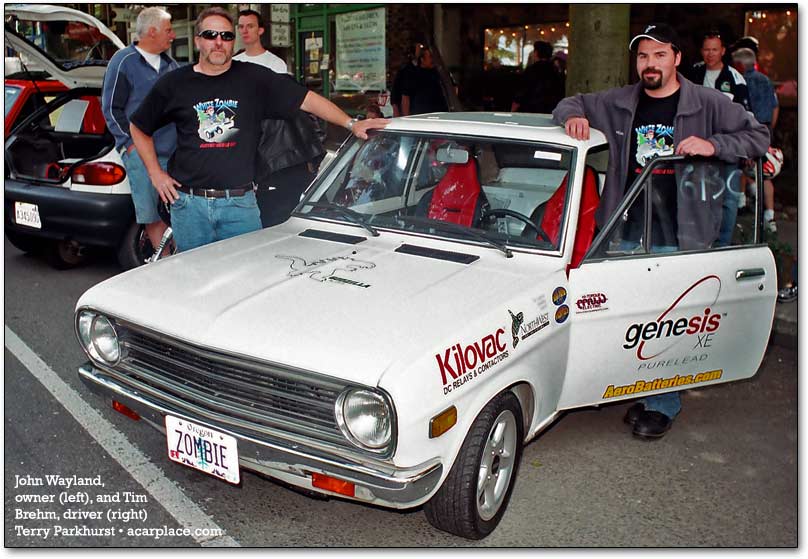 The White Zombie is a Datsun 1200 that turns 11.466-second elapsed times in the quarter mile with a trap speed of 114.08 miles-per-hour. And to cap it off, there are about 800 pound-feet of torque at zero rpm. How's this possible? Well, it's solely through electricity. It's an electric-powered Datsun 1200 and it can smoke gas-powered muscle and sports cars in a way that would make Mr. K proud.
The car's owner, forklift repair technician John Wayland of Portland, Oregon, is a big fan of early seventies Datsuns.  "I gravitated to Datsun because of things like the independent rear suspension on the 510," he said. Indeed, he admits to having owned 77 Datsun 510s and 12 Datsun 1200s.
He used the 1200 series as the basis for his electric powered screamer "because it's one of the lightest little sedans that's also structurally strong enough for what we it needed to do."
The car he calls "White Zombie" has gone through several incarnations since he started racing it, back in 1994. It now has a drive train that starts in the engine bay with Siamese 8 dual armature, series wound electric motors, which get their power from a 2000 amp Zilla controller; which in turn get its power from 30 Hawker Aerobatteries, each producing 12 volts, setting where the back seat used to be. It's a direct drive set-up with no clutch, flywheel or transmission. The electric motors are joined directly to a Dutchman Motorsports Ford nine-inch rear-end via an aluminum drive shaft.
To achieve a the speed mentioned at the outset – below 11.5 second elapsed time and 114.08 – Wayland borrowed a lithium-ion battery pack, filled with batteries such as you'd find inside a DeWalt cordless drill. (Normally, that battery pack is installed in KillaCycle, an electric-powered motorcycle, owned by Bill Dube – capable of  8.22 seconds and 156 mph in the quarter mile.)
"We could have done better, but there was a severe loss of traction," explained Wayland. (Running the batteries he normally uses, Wayland has seen his car achieve an elapsed time of 12.151 seconds and a trap speed of 106.25 mph.)
Wayland's plans for 2008 are to hit 10 seconds in the quarter mile, by widening the rear body to accept 10-inch wide rear tires and a four-link racing rear suspension.