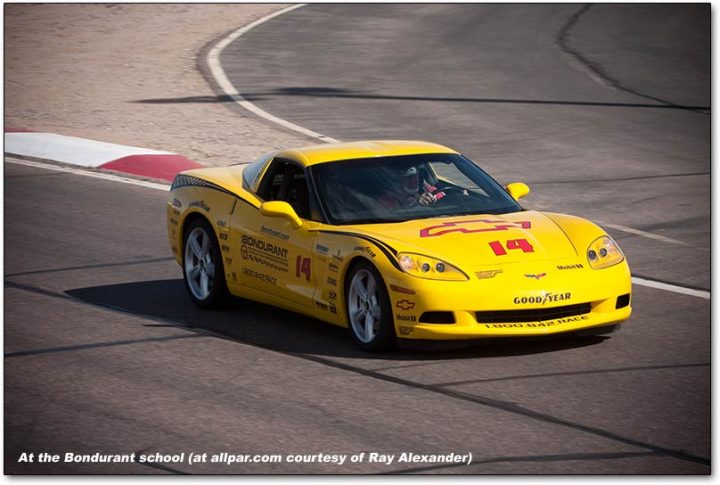 by Ray Alexander, SRT8 racer and owner of the million mile van
Upon seeing the marked improvement of Dale Jr. driving a road course after going to the Bondurant School, I took a one-day course. Let me say that I am not a fan of Dale Junior, and certainly was not, no, never a fan of Dale Senior. I am a fan of one of the other NASCAR drivers that have taken training there.
I learned so much in the one-day school, and with the instructors encouraging us to take a 3 or 4-day course, I decided to do it. I always sign up at SEMA in order to get the 20% discount. There is a difference between cheap and frugal.
During the introductions, I said that I started driving at 11 and started speeding at 12. I love to drive and make that fast. I got a speeding ticket on the way here on a road that does not have a number; your driveway gets more traffic than this road. I did see an accident on it once, a Marine double axle truck rear-ended a civilian car; the driver is probably still peeling potatoes. A few students later, a guy says, "I'm a Federal judge, and I don't fix tickets."
There were far too many students but as we began to be put into cubbyholes my previous instructor popped up and I immediately said, "I choose you." His name is Les Belchner. The other two students in my group were both snowbirds one from Erie, Pa. and the other from Rochester, N.Y. I knew that at least one car had a modified exhaust and I wanted it. The car was #14 and has a Borla exhaust.