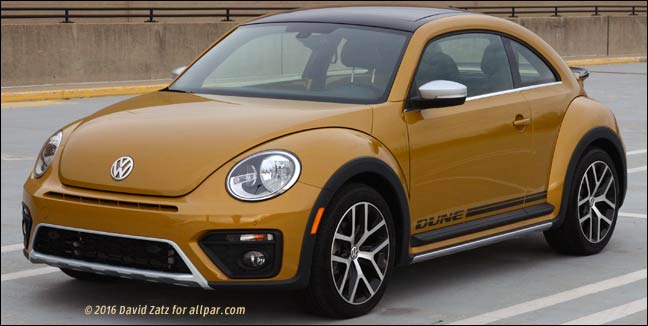 The Beetle is based on the Golf and Jetta, mainly a reskin of the popular-in-Europe compact cars; and it won me over from the first block, never really letting me down. The Beetle is quiet (until you reach highway speeds), smooth, and agile.
While the Volkswagen Beetle is low to the ground, it didn't scrape on sharp ramps — and I don't think it's just because the Dune is around half an inch higher than other Beetles.
There are two engines, a 170 horsepower 1.8 turbo-four and a 210 horsepower 2.0 turbo-four. The 1.8 runs on regular gas, and is hooked up to an automated manual transmission (dual-clutch). It's easy to drive gently and reap good mileage, but you can also floor it and, after a brief lag (if you're already moving and are not in sport mode), fly away; and it delivers good economy — 25 city, 34 highway. The highway mileage requires you to keep a relatively low speed (e.g. 65 mph) due to poor aerodynamics. The engine is very responsive at launch and if you are in the right gear already.
When you're in Park or have your foot on the brake, the transmission seems to go into neutral, quickly getting into gear the moment you start lifting your foot. The wide-ratio transmission was smooth and fairly lag-free; sometimes it felt a bit funny when cruising at moderate speeds as it tried to stay in too high a gear.
The ungated shifter makes it too easy to get into Sport when you're aiming for Drive; that said, being in Sport avoids turbo lag and that "rubber band" feel where you get nothing on tapping the gas, then the engine snaps into play. Normal mode also tends to stay at too low an engine speed, lugging the engine. Sport mode is much more enjoyable but eats fuel, and sometimes has that odd feeling of holding a low gear much longer than you'd expect.
Manual shifts are fast, very smooth, and easy enough to do. The shifter uses the standard "forward to go up" layout.
The Beetle is quite a lot of fun around corners, thanks partly to its light feel. Small bumps are well smoothed out; larger ones get through without fuss. The Dune begs for ever-sharper turns at ever-higher speeds, taking them with no fuss and gracefully losing traction (giving you an idea of its limits) when you overdo it.
The Beetle feels fine and stable on highways, with both blacktop and concrete, but noise becomes quite loud once you pass 55 mph, again due to the poor aero, with a drag coefficient of 0.39. If you spend a lot of time on the highway, the Golf is a better choice.
Overall, the combination of ride, handling, and the Dune's special steering wheel made this a very fun car to drive.
Going inside, one is struck by a huge speedometer, needed to accommodate the optimstic 160 mph top speed VW chose. It's only backlit when you have headlights on (sorry, you cannot turn on just the parking lights on this car).
The normal headlights are decently strong and supplemented by cornering lights; in back, amber turn signals improve safety. Visibility is very good, with lots of glass and an open feel; the sun visors are small but they work well enough and slide out if needed.
An intuitive trip computer shows things like gas mileage, oil temperature, and such, and has a programmable speed warning. Physical controls were sensible enough, including the optional dual automatic temperature control, which uses knobs for temperature and fan and buttons for vents. The red-backlit, thin lettering was very hard to read, especially at night.
Attractive and soft imitation leather seats worked well wtih the body-color. The sunroof only opened about halfway, but a dial opener allowed for very fast opening and closing. I was surprised to see that my 1979 Rabbit's slow and awkward seat-recline crank is still being used, and laughed a bit when the parking brake knocked into the armrest. As with any two-door car, it's hard to get the seat belt on, and for that matter to get in and out.
The car is not generously sized inside, but you can fit two adults on the same side of it, using the memory-sliding front seat to avoid hurting the person in the back seat; it actually worked as it should.
The Beetle Dune comes with the three major phone-makers' software, such as CarPlay for iPhones, and it worked well enough, an improvement over the built-in system (but not a huge improvement, unless you use your phone's navigation instead of buying Volkswagen's). The excellent Fender audio system had terrific clarity and stereo separation and is worth they money on V-Dubs without it. Music inputs are BlueTooth, USB drives, USB cables, and SD cards; it did lose its place on the USB drive when trying to pair with phones, but the voice command system works well.
The largest touch-screen available in the Beetle is 6.3 inches, and it's standard on the Dune. It's large enough for the task, even though the folder icon for moving around in the audio section is rather small; but the fisheye backup camera, combined with odd coloring, made it very hard to use. That said, this is one of very few cars that protects the backup camera from dirt and water by hiding it when you're not actually backing up.
We tested the $23,995 Volkswagen Beetle Dune; we could not find all the pricing information for it, but Beetles start at $19,795, or, if you want a stick or the 210 horse engine, $25,995. The Dune is new for 2016; it is slightly raised up, has a slightly wider track (they played with the wheel offsets), the mustard-yellow color option you see here, a different grille and wheel, different seats and steering wheel, and the rear-view camera, bigger screen, and rear parking alert system. Any Beetle, though, will have that comfortable ride, light feel, and fun factor.
The Volkswagen Beetle is responsive but not so fast that you can really get yourself into trouble, so you can really have fun with it, without taking the risks you would in a Viper or Corvette. It lets your ride be enjoyable, with the option of being either mellow or exciting. All that said, the Jetta and Golf on which it's based are both far more practical, without giving much up other than the distinctive styling — which some people really seemed to love.
Review Notes: Volkswagen Beetle Dune
Personality
Ball o' fun, bouncy and relatively risk free
Above Average for Price
Ride/handling, responsiveness in sport mode
Needs Work In
Long-term seat comfort, trying to pair with strangers' phones