The Ford Motor Company rolled out a new version of the famous Mustang Bullitt today in Detroit for the 50th anniversary of the car made famous by the movie of the same name.
After brief appearances by Executive Chairman Bill Ford and other company luminaries, the suits got out of the way for the real stars of the show: the car and Molly McQueen, granddaughter of Steve, whose stunt driving on the streets of San Francisco made the original car movie-star famous in 1968.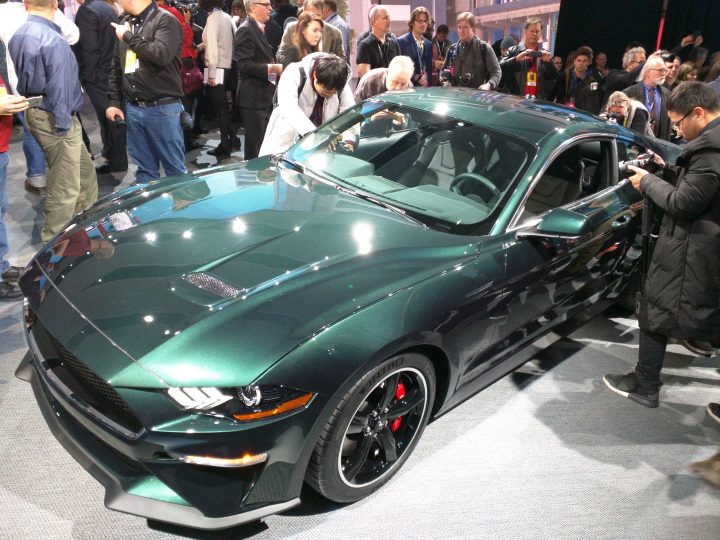 (The new Bullitt: available in ????)
McQueen admitted she never got to meet her famius granddad, but said her mother filled her in the details of his character. The unveiling of the new Bullitt – sale date unclear – took place at the North American International Auto Show in downtown Detroit, with approximately 3,000 media and auto industry insiders present.
(Somewhere in this mob, Molly McQueen is talking about her famous grandfather. . .)
New vehicle presentations and unveilings will continue Monday and Tuesday, before the big Detroit show opens to the public on Saturday.
Also shown by Ford on Sunday were a significantly beefed-up performance version of the Ford Edge, called the Edge ST, and a resurrected Ford Ranger midsize pickup truck.
(Automotive media swarm the stage after the unveiling of the  new Ranger)
The Ranger, sorely missed by a loyal, mostly younger demographic of the truck market, has been on sale elsewhere around the world for some time but has only now been engineered for sale in North America. It will arrive American and Canadian showrooms in early 2019, company officials said Sunday.