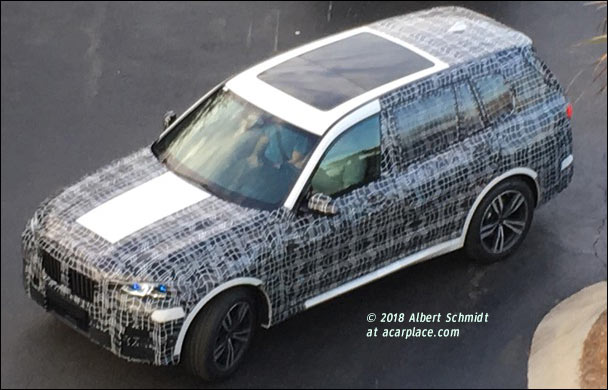 BMW has released some photos of the X7 iPerformance Concept, but not the production car itself. Today, those photos have surfaced from a location near BMW's facility.
The biggest vehicle ever made by BMW, the X7 is a full-size SUV, chasing sales where they seem strongest; it will have three rows of seats, and will hold either six or seven people. The concept was five meters long. The preproduction X7s likely have a 455-horsepower 4.4-liter twin-turbo V8 engine, necessary to push all that weight around, with all wheel drive.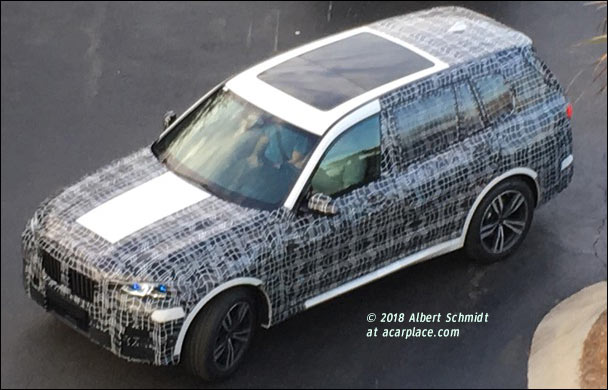 The X7 is expected to have a panoramic sunroof, rear seat entertainment, heads-up display, and night vision system; its primary target is reportedly the Range Rover, but in reality, the company probably has its eyes set on General Motors' high-selling SUVs. A surprising number of German car owners have one of the big Chevy, GMC, or even Cadillac SUVs in their driveway as well, and they sell in much, much larger numbers than the Range Rovers… at least in the United States.
The people at Jeep may be a little concerned, as the X7 goes right up against the forthcoming Wagoneer; Ford also jumped into the supersize SUV market recently. The BMW won't be as big as these competitors, most likely, but it will have the same passenger capacity, and be easier to park.
The X7 will be made in Spartanburg, South Carolina, which also makes the X3, X4, X5, and X6; it's BMW's largest plant in the world, though it only made 411,000 vehicles in 2016. 70% of those were exported.
The concept, complete with garish grilles, can be seen at BMW's own site.