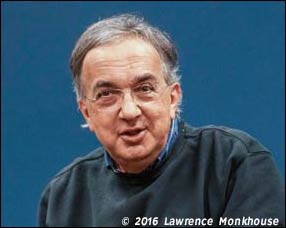 Sergio Marchionne is gone. The larger-than-life architect of Fiat Chrysler Automobiles died today at the age of 66.
In a statement released this morning, John Elkann, FCA's chairman and the chairman and CEO of Exor, the Agnelli family holding company, said: "Unfortunately, what we feared has come to pass. Sergio Marchionne, man and friend, is gone.
"I believe that the best way to honor his memory is to build on the legacy he left us, continuing to develop the human values of responsibility and openness of which he was the most ardent champion."
Marchionne's passing was also noted by the European Automobile Manufacturers Association (ACEA), Bill Ford, executive chairman of Ford Motor Company and GM CEO Mary Barra. Marchionne was president of the ACEA for two two-year terms (2006-2007 and 2012-2013).
On Monday, Italian newspaper Lettera43 reported that Marchionne had suffered a cerebral embolism during what was described as "high-risk" surgery for a cancerous growth in his shoulder.
Citing anonymous sources, Lettera43 said the embolism had caused irreversible brain damage and Marchionne had been breathing with a ventilator for more than a week.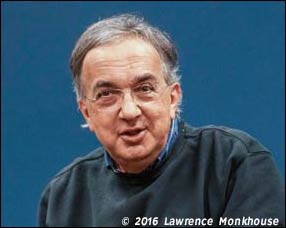 Marchionne was being treated for a soft tissue sarcoma. According to the National Cancer Institute, soft tissue sarcomas are cancers that start in soft tissues (muscle, tendons, fat, lymph and blood vessels, and nerves). They can develop anywhere in the body but most often occur in the arms, legs, chest, and abdomen. Depending on the disease's advancement, five-year survival rates run as high as 83% for localized tumors to as low as 16% for more advanced stages where the cancer has spread. Surgery is a standard treatment option for sarcomas.
A cerebral embolism, or embolic stroke, occurs when a blood clot from elsewhere in the body cuts off blood flow to the brain. Onset is typically sudden and damage can range from relatively mild to catastrophic, as in Marchionne's case.
It appears the reason for the surprise among the leaders of Fiat Chrysler was due to the fact that Machionne was not candid about his illness. Lettera43's sources said that he had not even discussed it with his friend – and Fiat Chrysler chairman – John Elkann.
In a span of 14 years, Marchionne turned around Fiat, taking it from heavy losses to profitability; engineered a merger with Chrysler; turned Chrysler from bankruptcy to high profits, and eliminated the joint company's net debt, all while building a unified company, rebuilding factories in the United States and Europe, and bringing production once outsourced to Mexico and China back into North America.
Bill Cawthon grew up in the auto industry in the 1950s. His Dad worked for Chrysler and Bill spent a number of Saturdays down on the plant floor at Dodge Main in Hamtramck. Bill is also the U.S. market correspondent for just-auto.com, a British auto industry publication, and a member of the Texas Auto Writers Association. You can reach him directly at (206) 888-7324 or by using the site contact form.