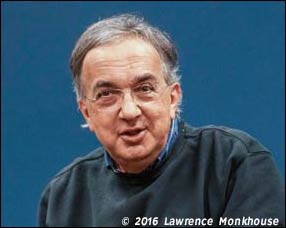 Sergio Marchionne is gone. The larger-than-life architect of Fiat Chrysler Automobiles died today at the age of 66.
In a statement released this morning, John Elkann, FCA's chairman and the chairman and CEO of Exor, the Agnelli family holding company, said: "Unfortunately, what we feared has come to pass. Sergio Marchionne, man and friend, is gone.
"I believe that the best way to honor his memory is to build on the legacy he left us, continuing to develop the human values of responsibility and openness of which he was the most ardent champion."
Marchionne's passing was also noted by the European Automobile Manufacturers Association (ACEA), Bill Ford, executive chairman of Ford Motor Company and GM CEO Mary Barra. Marchionne was president of the ACEA for two two-year terms (2006-2007 and 2012-2013).
On Monday, Italian newspaper Lettera43 reported that Marchionne had suffered a cerebral embolism during what was described as "high-risk" surgery for a cancerous growth in his shoulder.
Citing anonymous sources, Lettera43 said the embolism had caused irreversible brain damage and Marchionne had been breathing with a ventilator for more than a week.