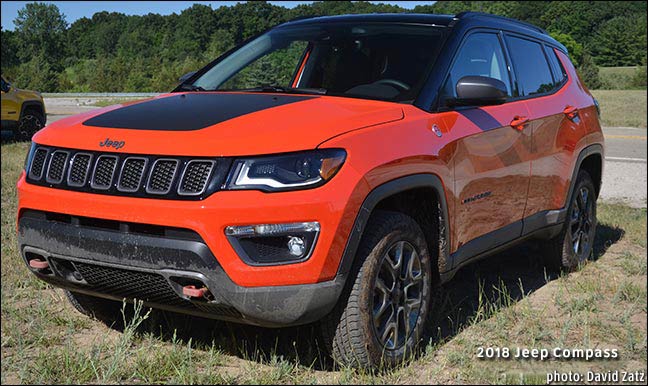 Recently, Jeep launched two vehicles — the revised 2019 Renegade, and a brand new Compass. The Renegade is fairly similar to the 2018 model, with some visual changes and a new engine option — the new corporate 1.3 liter GSE four-cylinder replaces the old Fiat 1.4 turbo. The Compass shares almost nothing with past Compasses.
The two cars should theoretically be fairly similar in driving experience and looks, since they are both built on the company's "small 4×4" platform and architecture. They share an engine option, the old DaimlerChrysler-based 2.4 liter "TigerShark" four-cylinder, and have similar all wheel drive equipment; but they are fairly well differentiated in more ways than their size.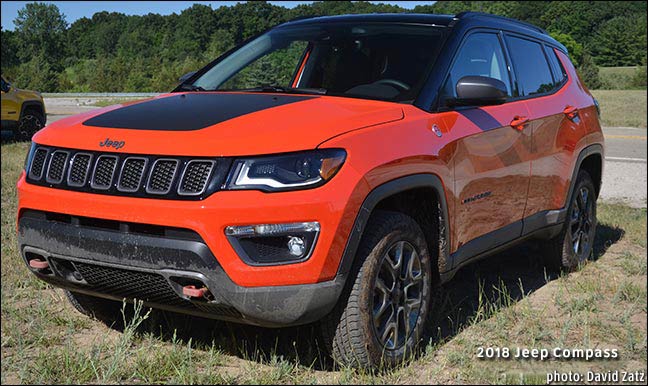 The Compass is a more upscale crossover, straddling the line between the Renegade's basic/functional feel and the larger Cherokee. Indeed, the three cars seem to be more differentiated by trim and feel than by size.  There's no mistaking the Renegade for anything but a budget option; it's comfortable and quiet inside, but the styling can't hide the plastics.
The U.S.-spec Compass' engine options are simple enough for the moment: a single 2.4 liter engine, with 180 horsepower and 175 pound-feet of torque. It doesn't feel quite as powerful as it should, but it's enough to give the crossover good enough pep with its nine-speed automatic — it also has a six-speed manual transmission option, made by Fiat, and a six-speed Aisin automatic with the very base front-drive model. Off-road, the 2.4/nine speed combination is more than enough to power over most obstacles; on-road, it'll get you to highway speeds pretty quickly.
The Compass interior is nicely trimmed, especially on the more expensive models. The simple gauge cluster is fairly elegant in appearance, with a big, high-quality seven-inch display sitting between the tach and speedometer gauges to show you antifreeze heat, fuel level, and whatever else you choose (base models have a 3.5 inch trip computer). The center video display goes from five inches in diameter all the way up to 8.4 inches, with CarPlay and Android Auto. The car also has numerous optional or standard safety and convenience systems, right up to self-parking, adaptive cruise, and blind spot/rear cross path alerts.
The Renegade is most likely a bit less capable than the Compass off-road; neither has, as far as we know, been subjected to Jeep's old Rubicon test, and the Renegade almost certainly won't pass it. The 2018 Renegade's base engine is the much-maligned Fiat 1.4 liter turbo, with around 160 horsepower and 184 pound-feet of torque, with an optional 2.4 (required for the top off-road trim); the 2019s will have a 180 horsepower 1.3 with 199 pound-feet of torque (according to European ratings), presumably as an option, but possibly standard on some trims.
Inside, the Renegade has less of a refined look, and more of a rough-and-rugged appearance; that's probably "needs must," or making the best of a lower budget. There's less sound insulation, though it's still pretty quiet; the suspension is a bit less compliant and seems a little less capable on-road and off-road, though still quite good compared with the competition.
In the end, the people at Jeep needed two crossovers — one to slot in just about where the old Compass was in price and market position, and one to be above it. The same platform provided two vehicles to fill their market needs. This is similar to the old Compass/Patriot scheme, except that the two are split more on price than on basic form. The Renegade may have an engine edge for a while, but the Compass will most likely get a 2-liter turbo option next, which will keep them separated.
Both Renegade and Compass felt pretty good off-road — which is to say they were far less bouncy and stiff than the Wrangler. It was ironic that taking rough terrain ends up being more comfortable in the cheaper and less-capable little Jeeps, but that's the way it was. The comfort kings of the course, though, ended up being the Ram Rebel and Power Wagon, whose long wheelbases.  extensive articulation, seat padding, and mass smoothed out the trail.