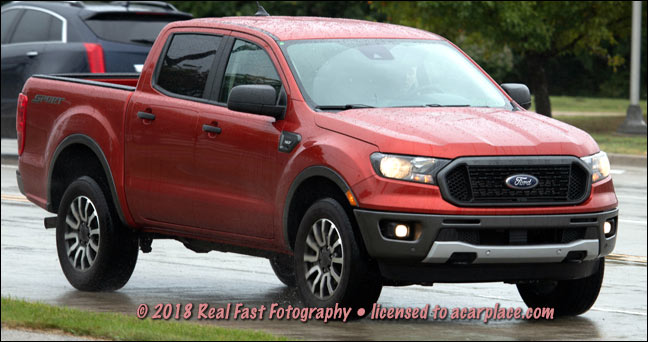 Courtesy of Real Fast Fotography, we have a portfolio of 2019 Ford Ranger pickup spy shots, covering several models. The Ranger is already available for pre-orders, and will show up in XL, XLT, and Lariat forms; we're not sure why one of our spy shot pickups has Sport decals.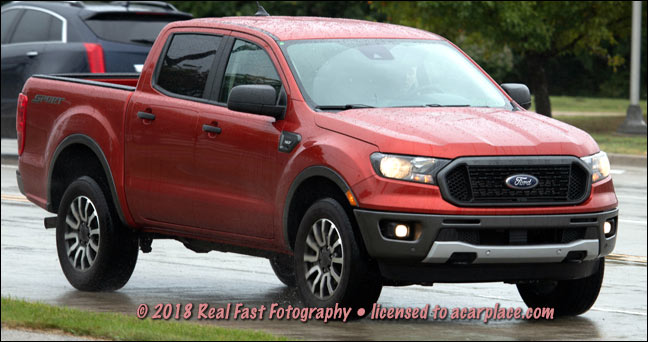 The Ranger should help Ford solidify its lead in, and dependence on, pickup truck sales. The Colorado proved that Americans were willing to buy compact/midsize pickups that weren't stamped with the Toyota name, generating decent sales in both Chevy and GMC (Canyon) forms. Ram is starting to dip its toes into the water, and Ford is coming in full-blast with a pickup it already sells in other countries.
The 2019 Ford Ranger is expected to start at around $25,000, powered by a 2.3-liter four-cylinder turbocharged to make 270 or 280 horsepower — less than Chevy's Silverado four-banger, but between the Colorado's base 200-horse 2.5 and its 308-hp V6. The turbo four may take premium gas, but it'll pump out an impressive 310 pound-feet of torque; towing is set at 7,500 pounds (max), and the transmission is a ten-speed automatic. Both the engine and transmission are taken from the Ford Mustang, albeit with tuning and gearing changes.
Buyers who want aggressive looks can get accessories including a Raptor-style "huge Ford letters" grille, wide fenders, special wheels, a bull bar, and numerous roof carrying cases.  The truck itself is rear wheel drive based, and 4×4 versions have a two-speed part-time four wheel drive system using an electronic locking rear differential. It has four modes — Normal, Grass/Gravel/Snow, Mud/Ruts, and Sand. With the 4×4 system, buyers get a low-speed cruise control designed for off-road use.

Buyers who opt for more goodies will pay more, with the top trim level coming in at around $40,000. There are two cab sizes, one simply extended and one with four full doors (the "SuperCab," which is overstatement if ever one existed, can be seen on the silver Ranger; the "SuperCrew" is on the red one). There's just one wheelbase, so it's likely that the larger cab brings a smaller bed.
The front suspension is a dual A-arm design with coil springs; in back you get the traditional leaf springs. North American Rangers are different from the rest of the world in a few ways, including a locking rear differential and fully boxed frame; lighting that meets US codes; and steel bumpers, probably for better crash ratings.
The spare tire, as you can see, is mounted underneath, so don't get any flats in the mud. Perhaps the FX4 off-road package will change that, perhaps not; the off-road package does include skid plates.
Gadgetry will, interestingly, include standard forward collision warning with automatic braking; options include blind spot warning with the ability to include the trailer in the blind spot range (using three manually chosen trailer lengths).
The 2019 Ford Ranger is coming quite early in calendar-year 2019.