The Fisker Karma was in development quite a long time when the company could struggle on no longer; and Chinese parts supplier Wanxiang Group bought the project, along with battery-maker A123, which had gone from a bright future with DaimlerChrysler to bankruptcy.
The Fisker Karma was actually unveiled back in 2011; today's Karma Revereo is quite similar, though the maker is different and production, hundreds of cars per year, moved from Delaware to California in 2016. The latest Karma is the Rivero GT, a quicker version of the basic car.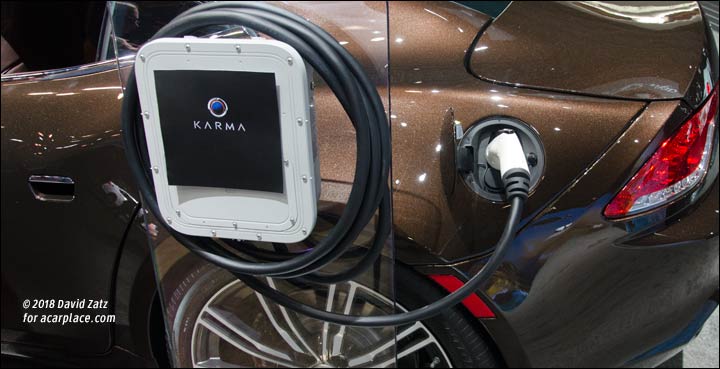 The 536-horsepower 2020 Karma Revero GT will use the stopping power of Brembo brakes. Brembo worked closely with the Karma engineering team to provide a light weight, low drag brake system.
The Brembo front caliper is a six-piston all-aluminum monobloc (single piece) design, providing the 370 X 34 mm rotor with high clamping power. The caliper has a retraction spring to keep pads from dragging on the rotor, to increase the range of the Karma. The six pistons are staggered in diameter, 30/34/38 mm, to allow for even stopping pressure on the 115 cm2 brake pads. The rear has a similar-design four-piston caliper which, coupled with the Revero GT's regenerative brakes, will increase brake pad life.
Inside, drivers face a combination of warm, traditional leather and wood, and modern, high-tech plastic and brushed aluminum, very nicely styled. The pushbutton shifter, likely unique, solves the problem of "shifting by touch."
Brembo's electromechanical parking brake replaces the Karma's mechanical parking brake, reducing weight by 1.7kg (3.8lb) compared with a typical drum-in-hat system; it's also less complicated.
The seats are very comfortable indeed, and getting in and out is fairly easy. The doors pop open rather than using traditional releases, which is a bit of an unnecessary touch for traditional doors. However, the warm, traditional-luxury brown interior is very attractive and very comfortable.