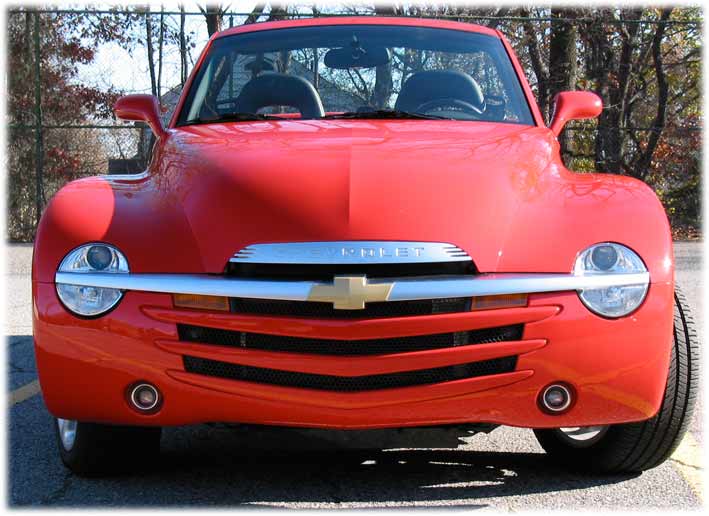 The 2003-2006 Chevrolet SSR was fun to drive, but never recovered from the first price shock or relatively unexciting performance of the original engine. Some dealers could not even sell one SSR, though at first it looked as though people would have to wait for years to get one. They are a good deal – in 2005-2006 form especially – and are worth pursuing.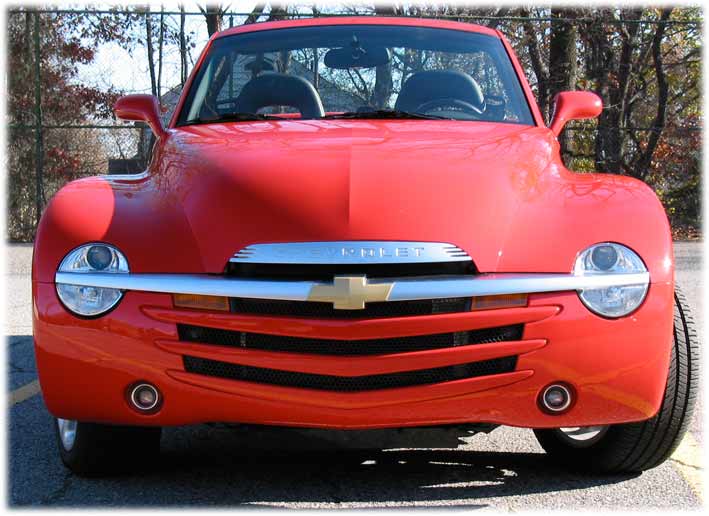 Production
Retail production began in early 2003, ramping up eventually to 10,000 to 12,000 units per year. However, the first model year (2003) will see only 2,500 units at most (possibly only 1,500), with 5,000 more being produced in calendar year 2003 as 2004 models.
The first 25 saleable Chevy SSRs were used in a unique launch program that created one-of-a-kind pedigrees for each; they were dubbed "Signature Series."
Only one first-model-year (2003) SSR was given to any particular dealer, and only dealers who sold at least 500 retail Chevrolet cars and trucks in calendar year 2001 gained that single 2003 SSR. Only 250 retail sales were needed for a 2004 model (also made in 2003), and dealers could get more than one. Every dealer could get a 2005 SSR.
The 2004 calendar year sales chart was sell 500 vehicles, get two SSRs; sell 750, get three; sell 1,250, get five; sell 1,750, get six; sell 2,000, get eight; sell 2,500, get nine.
Options
Some interesting options included a windbreak, running boards, a soft cargo compartment with customized wood, aluminum, or body-color strips, and an auxiliary gauge pack mounted in the dashboard by the shifter, which both provides additional information and boosts the "hot rod" feel. There were also custom vehicle colors.
About the Chevy SSR
The SSR builds on Chevrolet's semi-forgotten tradition of curvy trucks, so it was not just an imitation of the PT Cruiser or Plymouth Prowler (though those were doubtless the inspiration for the SSR).
The Chevy SSR combined the open air of a sports roadster with a pickup bed. A retractable hardtop – which remains in the production version – made it a practical street machine. The two-piece power retractable hardtop stowed vertically between the seat and the rear storage bed.
The original engine was a modified aluminum version of the 5.3 liter V8 engine with an expected 300 horsepower or more, and a TORSEN axle differential for added grip. It was replaced after a year with the Corvette engine.
The transmission was the 4L60E GM automatic, with a conventional shifter. Derik Price, who predicted its use, wrote that the 4L60E ("an electronically controlled, updated turbo 350") is used in many GM cars and pickups, often behind the 6 liter V8.
Like the Trailblazer, which it is based on, the SSR had a hydroformed steel frame with eight crossmembers for stiffness and handling. The engine crossmember was modified to fit the SSR's V-8. Due to its superior stiffness, hydroforming is becoming the new standard, having been adopted in the heavy-duty Dodge Rams and Dodge Durangos as well.
The production version has somewhat larger headlights and smaller turn signals than the concept, with small changes to the fenders and grille.
A 5'3″ x 4'7″ covered, lockable pickup box is included with the Chevy SSR concept for hauling. A button on the key fob of the SSR concept can operate the tailgate remotely; a latch on the inside of the tailgate can operate the gate manually.
The SSR concealed controls for temperature, sound, navigation, weather information, Internet/e-mail access, and OnStar behind a dashboard-mounted panel door.
The interior plays off a twin cockpit theme, presenting a clean, simple, comfortable environment. The storage area between the seats can be stowed away to provide seating for a third person or a child seat, or it can act as an armrest with cupholders that slide out from inside.
The production car, unlike the concept, had bucket seats and a center console, but kept the 19″ and 20″ wheels and performance tires. Cornering was quite good, with a Camaro-like short-long-arm front suspension and a five-link solid rear axle. Large four-wheel disk brakes gave the SSR strong stopping power. A heavy duty rear axle kept the SSR on the road despite abuse.
GM did final assembly in their Lansing "Craft Shop," ASC handled quite a bit of the SSR's design and engineering, as well as its construction. ASC did the first sketches for the vehicle, and have worked with Lansing on the Cavalier/Sunfire convertibles and Hummer H2 (a modified Suburban).
2005 Changes
2005 saw many changes, the most notable of which are the optional Tremec M10 or T56 (it's reported both ways) six-speed manual transmission and the new Generation IV 6 liter LS2 V8, with 390 horsepower and 405 lb-ft of torque. With those changes, 0-60 times dropped from a four-cylinder-style 7.6 seconds to a blistering 5.5 seconds (with automatic; 5.3 with stick). The quarter mile comes in under 14 seconds.
There's also a retuned steering system for better on-center feel and lower low-speed effort, a quasi-dual exhaust, dead pedal, new engine cover, self-supporting gas hood struts, and MP3 playback ability. New options include an auxiliary gauge package, windbreak, and body color paint on various internal surfaces. The new steering tuning includes retuned valves and torsion bars, a new bearing, and a low friction steering sealing package. Finally, the driver's side floor mat has been revised and Aqua Blur replaces Ultra Violet. the automatic is now the 4L65-E.
More effective and less restrictive catalytic converters are mounted closer to the exhaust manifold for quicker "lightoff" and reduced cold-start emissions. SSR's exhaust has been retuned to maintain its throaty sound.
Trailblazer
The SSR is based on the Trailblazer. Positioned between the Blazer and Suburban (think Durango), the Trailblazer's base straight-six engine produces the power and torque of a V8 but with better gas mileage. It has good handling and a smooth ride, making it seem more like a minivan than a truck – and far better than its competitors at Ford, Dodge, Mitsubishi, Isuzu, and Toyota. Advances on the SSR and Trailblazer should be complementary – learning from one vehicle should translate to the other, and higher production of components will help keep prices down. Review.