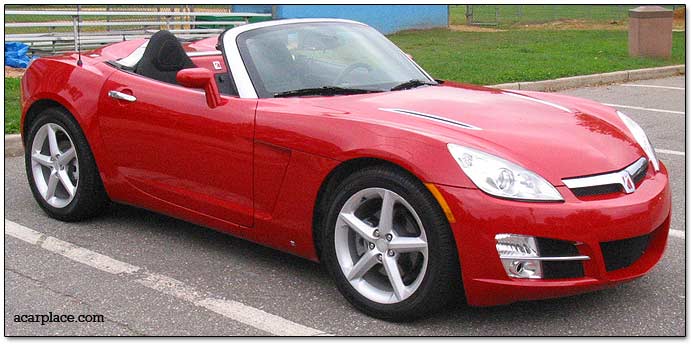 The Saturn Sky was one of the most exciting new vehicles of its time, not because of its blazing speed (it's not all that fast), its excellent cornering and road feel, or its technology; but because it provides some of the looks of the first-generation Dodge Viper in a cute, sporty, small package. The Sky is one of those rare cars that makes heads turn – both male and female heads – and causes kids to drop what they're doing, gape, and yell "nice car!"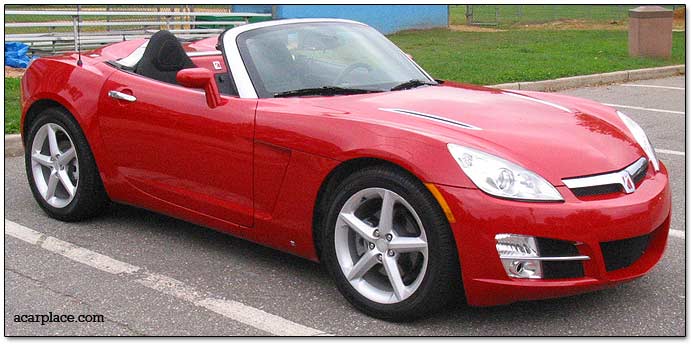 Driving the Sky is an enjoyable experience even without an audience; the rubber grips the road with surprising tenacity, and you find yourself taking ever-sharper, ever-faster turns and enjoying it more. This is not one of those big heavy muscle-cars, nor one of those "toss it around" cars, but a classic British-style convertible that turns like a well designed go-kart. What's more, the Sky manages to have one of the tightest-feeling suspensions we've driven without losing much comfort; bumps are well cushioned and bad roads taken in stride, without rumble or discomfort. You can feel without being punished for it.
Review Notes: Saturn Sky
Personality
British roadster without Lucas electrics
Gas Mileage
EPA estimates: 20 city, 28 highway (expect 20 city, 24 highway)
Unusual features
Manual convertible top; l'il Viper styling
Notes
Scrapes the driveway too easily; similar to Pontiac Solstice
The engine is good for 0-60 in about 7.3 seconds, according to General Motors, but it's more of a sprint runner than a torquer. Once you're going, you have to drop down a gear or two to get things moving; the engine seems to be one of those modern "gotta be near redline" creatures. On the lighter side, a big heavy engine would probably take away a lot of the fun of the Sky, which performs more than adequately (provided you're not lazy with the shifter) and emits a deep rumble at idle that matches its looks. (By the way, in case you were wondering, the "air intake vents" on the hood are solid and nonfunctional, as are the "brake cooling vents" on the front fenders, there apparently to increase the Viper resemblance.) Indeed, one could say that it's more fun this way, with the ability to easily come up to highway speed or thwart lane-cheaters at stoplights, but without as much risk of accidentally doing a 360 because you hit the gas at the wrong time. The engine is quite enough without being too much – it's easily controllable. Around town, the Sky never feels underpowered, but on the freeway, expect to drop down a couple of gears for passing power.
There's supposed to be a 260 horsepower supercharged version on the way, which makes sense given the Cobalt SS and Solstice GXP. This "Red Line" version will supposedly get a torque-sensing limited-slip differential, stability control, and a stiffer suspension, as well as a boost gauge and various cosmetic changes.
We tested a manual transmission car, and were very happy with the clutch and shifter; the clutch was easy to manage, and the shifter felt heavy and mechanical, the way a sports car probably should (though it's a matter of taste). An unusual amount of vibration was transmitted through the shifter. It was easy to pick each gear, including reverse, and we had no "oopsies." The speed limiter kicked in well before we hit the marked redline, though.