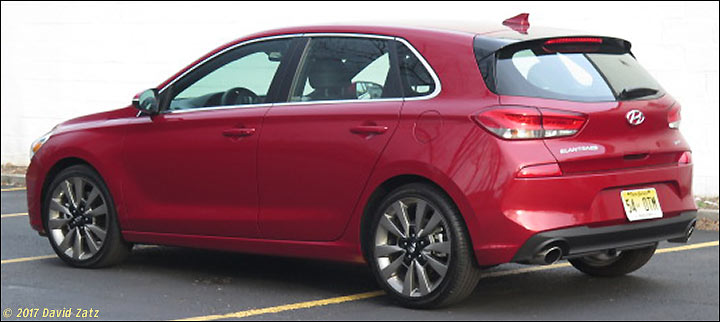 We've driven cars with tiny little engines and big turbochargers before, and few satisfy. Even the relatively costly Volkswagen turbo is rather obviously just that — a well-executed four-cylinder turbo, with a slight lag when you first take off, and a definite buildup in power as the turbo spins.
The 2018 Hyundai Elantra GT Sport could have a V6 under the hood, as far as most people could tell; its little turbocharged engine displaces just 1.6 liters, but generates 201 hp and more 195 lb-ft of torque from a rather low engine speed.
Big numbers from small displacements isn't unusual, but making it all feel as linear as a larger engine is. The Hyundai doesn't give away the game with turbo whine or surges, and has just a barely perceptible shift from launch to boost. This is, in short, the furthest you can get from a 2013 Dodge Dart Aero.
You can run the engine at much lower speeds than some competitors; indeed, if you hang out at 2,000 rpm, the upshift light comes on. In second gear, the Hyundai starts building power from 800 rpm, with no bogging. You can get sharp acceleration, uphill, from 1,500 rpm — in fourth gear. There's no need to plan ahead or work around the limitations of the engine. It's good for predictable launches, every time.  Yet the idle is smooth and easy.
The shifter has a good feel, and the clutch makes perfect shifts easy, time after time, over and over, in any condition.
The downside is gearing. Hyundai put in a close-ratio unit which has you in sixth gear at just 40 mph. Perhaps that's so they can share a transmission with the lower-powered Elantras? Regardless, this car cries out for a wide-ratio transmission, since the engine has such a wide power band; they could probably put 3 mpg onto the highway economy that way.
The ride is smooth for a compact car with P225/40R18 wheels; there's strong road feel, even with roads that seem smooth in other cars, but it's well cushioned. That's especially true with the fine handling; the car felt stable and stayed glued to the pavement over rough concrete and pothole-ridden blacktop. It's not edgy-fun, but it doesn't feel as heavy as its 3,000 pounds, and it'll take what you throw at it.
We did not scrape the car on the ramps of our test parking lots.
Inside the 2018 Elantra GT Sport
The Elantra GT, the hatch version of the Elantra series, has decent room for four people inside, with a wide but shallow cargo area. You can put big things in, but you won't be able to see behind you, if you do. Still, the width was gratifying and a bit surprising.
The stylists were very clever, taking a basic economy-car interior and making it look sporty and somewhat upscale with some shiny metallic red trim and contrasting seat stitching. It's decently ergonomic. The glove compartment is large, though the center console isn't, and there are no map pockets, just bottle holders, on the doors; rear passengers get mesh pocket on the back of the front seats. A coin tray would have been nice.
It's easy to get in and out; the dash isn't a knee-blocker. Front and rear seats are both comfortable and supportive. Despite the center rear seat belt and headrest, this is a four-passenger car.
Gauges are clear and easy to read, despite the absurd 160 mph top speed and 8,000 rpm top rev, because the fonts are large and legible and the scale goes nearly all the way around the dial. Nothing is too small to read, even with less than perfect reading vision — a refreshing change from most cars.
The dashboard lights up white-on-black, day and night, while buttons are marked out in an odd bright blue. You can set up brief information flashes to tell you that you've turned the wipers on or off, changed the headlights, etc. You can set the rear wiper to go on when you go into reverse.
The steering wheel controls use toggles instead of buttons for some functions, which, after a little use, you may find to be far superior than buttons.  The trip computer is clear; the animations are neatly done, the font is large and readable, and everything makes sense. It isn't very ambitious, only showing tire pressure (per tire),  settings, and economy/speed readings, or a digital speedometer.
Cabin amenities include an overhead sunglass carrier, bright lights in front and rear (incandescent), sun visors with slide-out sections, and lighted vanity mirrors.
The cargo area, again, is quite wide, but depth is sharply limited by the space given to the spare, in case you want to put a full size spare in (it comes with a donut). Both seats fold forward, a roughly 50/50 split, to create more length.
Visibility was generally good, particularly with those LED headlights (standard on the GT line).
Telematics, quirks, and peculiarities
The telematics system is quirky, despite appearing in a brand new car. The tablet/phone style was a brave choice but probably not the best one; the hard buttons came to the rescue. One annoyance was a beep every minute if you played the radio with the engine off. (It turns out by shutting off all beeps, the warning beep also goes away.)
The sound system only takes MP3 (and WMV) files, — nothing else, including the AAC files that industry leader Apple has made so popular. Not taking AAC files is an odd oversight in a 2018 car… and, for that matter, a 2008 car.
Mac users need to clear out invisible files with USB Overdrive or Terminal commands, an issue with just about all cars, though Macs take up 15% of US retail computer sales.
There are two other issues that you may find major or minor: when selecting Artist>Album from a USB drive, the system thinks you want to see every track on every album before choosing; then it plays the tracks, not in album (or USB drive) order, but in alphabetical order.
The sound was a bit thin while in motion, but good while stopped, suggesting that the system doesn't compensate well for in-motion noise.
Apple CarPlay and Android Auto are both supported and there's enough room for your phone in the USB-cable compartment. They work quickly and flawlessly, in my experience.
The best part of the telematics system could be the cellphone integration, which was very fast to set up and clearly spoke the name of the caller. The microphones are overhead, not in the mirror, allowing an effective flip-the-tab day/night mirror.
Individual doors don't have separate lock controls; all are controlled from one button.
Pricing it out
The Hyundai Elantra GT Sport comes at around $24,000, almost fully loaded.
The base hatchback is the plain ol' GT, costing $19,350, and coming with all the nonperformance features of our test car (and there are a lot of those). The main difference is the engine — the base car has a 2-liter four rated at 161 hp and 150 lb-ft. That's probably enough for most people. (If you prefer a sedan, you can get the 201-hp engine with the Elantra Sport; the base sedan engine is a 1.4 turbo.)
Both the GT and GT Sport have (oversensitive) blind spot detection and rear cross-traffic alerts; the blind spot detection gave us false alarms of cars moving up two lanes over, but the cross-traffic alerts are a life-saver in crowded parking lots when you get between two black Suburbans. You also get side impact and side curtain airbags and a driver's knee airbag.
The rest of our car was standard except for the floor mats, and I, for one, always replace them with mud/snow mats anyway. Let's do the stereo first: eight-inch central display, six speakers, Apple CarPlay and Android Auto support, USB and auxiliary input, and center 4.2-inch trip computer/preference setting area.
Then we have the pushbutton start, two-zone automatic temperature controls, electric parking brake, and leather seats and steering wheel. The car has alloy wheels and P225/40R18 tires, LED headlights and tail-lights, turn signals in the outside mirrors, and a rear window wiper.
As for quality, TrueDelta.com estimates prior-generation Hyundai Elantra GTs as being better than average; indeed, the Elantra beat the average in both series, going back to the 2008s.
Put it all together, and you see that the Elantra GT is really quite a bargain even before Hyunda's 5/60 general warranty, 10/100 powertrain warranty, and 5-year roadside assistance.
| | | | |
| --- | --- | --- | --- |
| Specifications | | Mazda3 Gran Touring | Hyundai Elantra GT Sport |
| Price, model shown | | $22,545 | $24,135 |
| Price, base | | $17,845 | $17,800 (sedan) |
| Weight | | 2,869 | 3,014-3,102 |
| Horsepower* | | 155 | 201 |
| Torque* | | 150 | 195 |
| Cabin volume | | 93.3 | 96.5 |
| Trunk | | 12.4 | 25 |
| Total legroom | | 78.0 | 77.0 |
| Shoulder room | | 57.2 / 54.4 | 56.2 / 55.4 |
| MPG (stick) | | 29/41 | 22/29 |
| MPG (auto) | | 30/41 | 26/32 |
| 0-60 (auto) | | 7.7 | 6.8 |
* 2.0 Mazda3 i, 1.6 turbo Elantra; the base Elantra GT (not Sport) is just 161 hp and 150 lb-ft, with a 24/32 mpg rating (automatic), while Elantra sedan is rated at 28/37 normally, 32/40 in Eco.