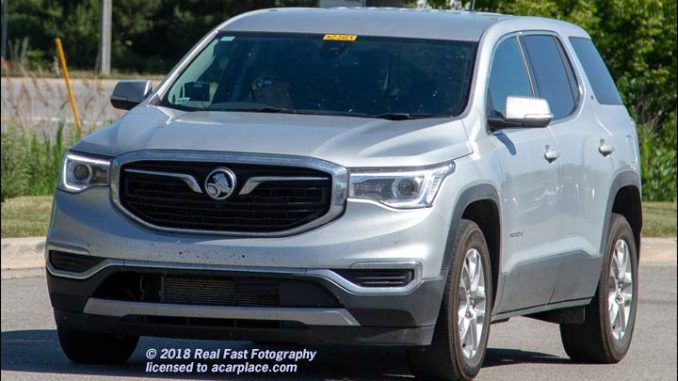 Australian, like North America, is rapidly changing from sedans cars to SUVs. With no automaker still making cars in Australia itself, brands like GM's Holden are looking for crossovers and SUVs across the globe to launch in Australia.
Holden already has crossovers and SUVs like Chevrolet's popular Equinox, Captiva, and Trax; this time, it made sense to tap the successful GMC Acadia for duty. A strong seller for GMC in the United States, it fits between a large mid-size crossover and a full-size SUV — but in Australia, it would be Holden's largest crossover, just a bit larger than the body-on-frame Holden TrailBlazer SUV.
Our friends at Real Fast Fotography have caught several of the upcoming Holden Acadias  around Metro Detroit, wrapping up testing before production starts in the fall. The Holden is partly distinguished by clear lamps instead of the orange-trimmed ones used in North America; the rest of the vehicle looks virtually the same, apart from being right-hand-drive.
General Motors has not released specifics, but we know a diesel option is being tested. GMC already sells a 2.5-liter inline four cylinder with dual overhead cams and electronic stop-start, as well as a 3.6-liter gasoline V6 that makes 310 horsepower (230kW) and 271 lb. ft of torque (367Nm). Since that engine is sold in the new Holden Commodore sedan, we expect it to be in the Acadia as well.
It seems most likely that the Holden Acadia will keep the GMC's six-speed automatic transmission and that the trim package will be roughly the same, with different names. Both will be made at General Motors' Spring Hill, Tennessee Assembly Plant.
GM must have high hopes for the Acadia; they announced that 700 new jobs would be added to the plant to make it happen. The crossover will enter production in September, and by sold in Australia and presumably New Zealand during calendar-year 2018.
Spy photographer and Mopar enthusiast Robert Miller is a mainstay of Allpar and Mopar Insiders, as well as aCarPlace. He has been successfully predicting new cars, particularly at FCA, for years.