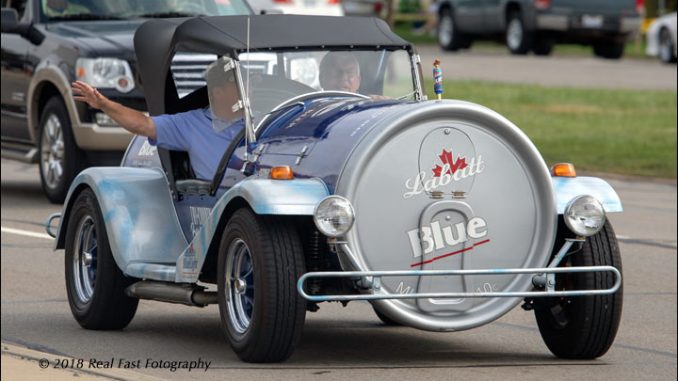 The Woodward Cruise is a fine place to spot classic Detroit muscle, but it's not limited to the Big Three (or Four, including AMC); there are plenty of unusual or exotic cars there, too.
Before we dive into the more exotic cars, let's just admire this fine example of a Studebaker Avanti, later sold as just the Avanti. Launched in 1962, the Avanti was dubbed "America's only four-passenger, high-peformance personal car," a meaningless bit of marketing; but the swoopy sides and aerodynamic front were certainly ahead of their time (air entered under the bumper, in case you were wondering).  The Avanti broke 29 records at the Bonneville salt flats, yet had many safety advances. The car didn't die with Studebaker; it continued on, using the original tooling and factory, for years afterwards, in small numbers. Precious few were actually made by Studebaker, either, so these are fairly rare cars.
I will be honest and say I have no idea what this car is, but I'm pretty sure it's not a Bentley, despite the hood ornament.
Another oddball American car, the Citicar, a 1974-77 electric vehicle made in Florida by Sebring-Vanguard; the basic design was used in the Comuta-Car and Comuta-Van from 1979 to 1982, too, and the body was used by Norway in the Kewet. Exactly 4,444 were made from 1974 to 1979, making it more rare than the Avanti. The car had just 2.5 to 6 horsepower, and it weighed 1,300 pounds or so; buyers only got 40 miles of range, with dead-slow acceleration (0-25 in 6.2 seconds, with a top speed of around 25-40 mph depending on the model). Given those specs, sales of 4,444 were pretty good.