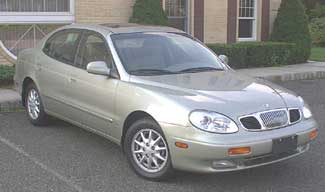 The Daewoo Leganza was surprisingly good for a Korean sedan when we wrote this article in 2001 — now, of course, Hyundai showed that South Korea can produce quite a good car. The Leganza was nimble, with a firm but cushioned ride – not luxurious, but not too harsh, either. The steering wheel moves too easily, though, and does not recenter quickly enough.
Wind noise is very low. The interior is well styled, with polished faux wood at strategic points. Quirk: the driver's lock controls all the other locks.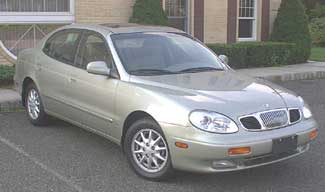 Room is similar to the Camry and Stratus. Tall drivers need not fear the Leganza, and even the seat belts and tilt wheel are suitable for normal sized people.
The Leganza engine is noisy and buzzy when pushed. The engine also tends to bog when first starting out. Gas mileage is about right for a V-6, which it is not. Power is better than one would expect on the freeway, and passing is very easy, even up hills or with the air conditioner on. The transmission is prone to lurching. (A manual transmission, which we recommend, is also available, though according to the EPA, it does not increase gas mileage much).
Daewoo's manumatic has no overdrive, and makes it easy to accidentally move two gears at once. However, it does allow starting the car from second or third gear, handy in winter. A performance shifting option makes gas mileage low but lives up to its name.
The radio has many features but is mediocre in sound quality, and hard to operate.
The climate control, which lets the driver specify a temperature, has a gimmicky display but works. Air conditioning is acceptable, if not up to American-car standards.
The only badly designed control is the cruise, which has an on/off switch on the panel and requires a twisting motion on the end of a stalk to set or change the speed. No cancel button.
There are two cupholders up front but most cups and bottles will not fit. The doors have map pockets, and the front seats have back pockets.
A clever feature is a remote control integrated into the key – no separate dangling thing needed to open the doors.
We liked the Leganza, and prefer it to, say, the Nissan Sentra and Chevy Malibu. The Leganza is worth a drive, if you are price sensitive and like cars that let you know when they are accelerating and shifting, but do not betray their high speed with wind noise.