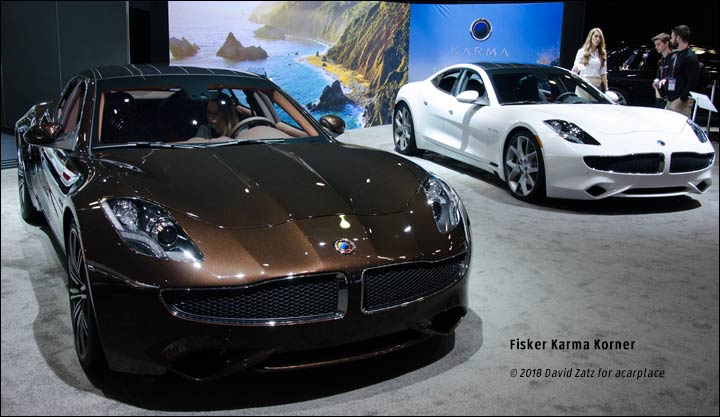 The Fisker Karma was in development quite a long time when the company could struggle on no longer; and Chinese parts supplier Wanxiang Group bought the project, along with battery-maker A123, which had gone from a bright future with DaimlerChrysler to bankruptcy.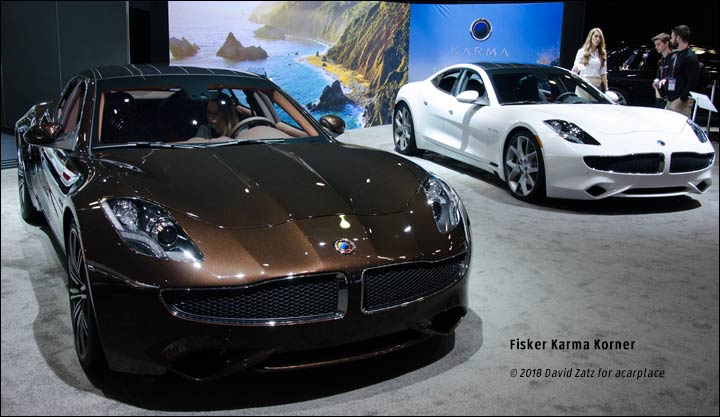 The Fisker Karma was actually unveiled back in 2011; today's Karma Revereo is quite similar, though the maker is different and production, hundreds of cars per year,  moved from Delaware to California in 2016.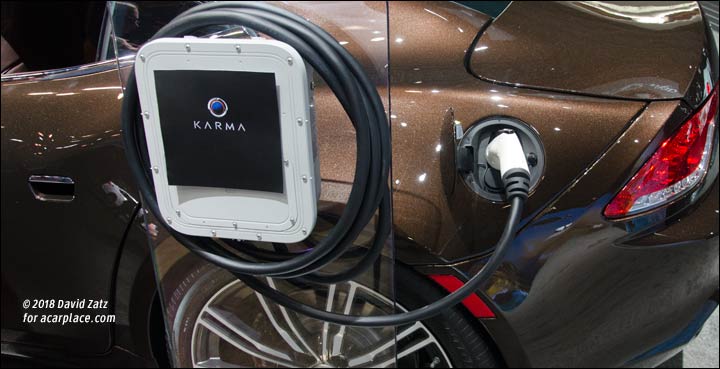 Karma brought two of its Reveros to the New York Auto Show, with a "Karma filling station" display showing the car plugged in via a gas-cap-like plug.
Inside, drivers face a combination of warm, traditional leather and wood, and modern, high-tech plastic and brushed aluminum, very nicely styled. The pushbutton shifter, likely unique, solves the problem of "shifting by touch."
The seats are very comfortable indeed, and getting in and out is fairly easy. The doors pop open rather than using traditional releases, which is a bit of an unnecessary touch for traditional doors. However, the warm, traditional-luxury brown interior is very attractive and very comfortable.
The gauge cluster is all digital and not at all traditional. The information presented is easily readable, using a large, bold typeface.
The red interior is for those who prefer modern sporty to traditional luxury. The earth colors disappear entirely, but both are a nice, comfortable leather.
The lower-left button cluster shows how designers have looked at the details, making an interior that is both user-friendly and attractive.
Overall, whatever else the merits of the Karma Revero are, owners will be able to sit in high comfort and admire their immediate surroundings.
That other promising electric car maker, Faraday Future, still plans to make the FF91 electric car, with a claimed 0-60 in 2.4 seconds and 1,050 horsepower, four-wheel steering, and a claimed 300 miles per charge. That said, the Revero is here, now.