Congratulations, Mr. Manley — or is it Mike? — on taking over Fiat Chrysler.
I admit I don't know you well, since we met just once (you didn't seem impressed; I guess my digital recorder exploding didn't help). It's clear you're driven by both customers and business issues, and that you know some people will never be satisfied. Well, those are lessons learned from running Jeep! It's tough to run a brand that's rooted so firmly in a highly specialized past, and aiming for a much more popular future.
Everyone's waiting to see if you'll be like Sergio Marchionne or Dan Akerson, the gently incompetent-but-not-bad CEO of General Motors before Mary Barra took over.
Here's my guess: you'll keep Sergio Marchionne's core strategies going, adapting to market changes as he would, but you won't have quite so much of a hair trigger. Sergio had a tendency to react quickly and frequently to changes in the market and to make extremely quick decisions. I've suspected for quite a while that sometimes he reacted too quickly, and certainly too often.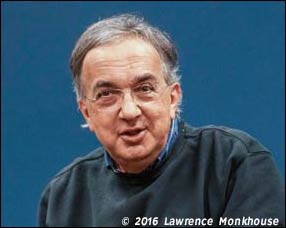 It's good to bend with market forces, but if you're constantly changing everything, you can waste billions of dollars on rework, scrap, and repurposing everything. That also burns out employees and makes their efforts seem pointless, and you can end up with final products that aren't quite as fine-tuned as they should be. (The PT Cruiser would have been a great Plymouth, a brand-saver; but it dragged Chrysler down-market at a time when the focus was making it more up-market).