Mitsubishi is coming back. Okay, to be more accurate, they never left, but they're getting more popular.
The Mitsubishi car company was only a small part of the huge Mitsubishi keiretsu which builds the container ships that transport its cars, the stereos in their (and other) cars, and some of the computer chips as well. Many Americans drove Mitsubishis without realizing it, since they had Dodge, Plymouth, and Eagle labels.
Mitsubishi suffered when it split from Chrysler; despite some cars with high street cred, particularly the Evo, sales of small sporty cars in the US aren't for a major business, and the midsize Galant never made sales records. The company eventually sold their Illinois assembly plant, and started remaking itself in the crossover image. (More  recently, Nissan and Renault bought a controlling interest.)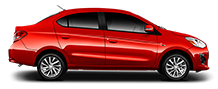 Today, you can buy one of three Mitsubishi crossovers in the US — and they are all built on, essentially, different versions of the same platform. Literally, different versions — they have different development dates. They also still sell the Mirage (the pictured red car), long ago known as the Dodge Colt; and, in other countries, their compact pickups sell as the Mitsubishi L200, Fiat Fullback, and Ram 1200.
The Eclipse Cross takes the name and styling intent of the sporty coupe, but it's a small crossover, joining the Outlander and the Outlander Sport. All three have a full panoply of safety and technical gear, and are selling at bargain prices. The Eclipse Cross is the newest, with a tiny 1.5 liter turbo/direct injection engine that pushes out 152 horsepower, 184 pound-feet, and the feel of a 2.4 liter four-cylinder. It's surprisingly responsive, and the transmission — a CVT that can emulate eight speeds under manual shifting — feels perfectly natural. This is a car that can make you forget any past experiences with unresponsive, rubber-bandy small turbo engines and weird-feeling CVTs.
The base car comes with 16-inch aluminum alloy wheels; the upper models get 18-inch wheels, standard, with reasonably wide P225/55 R18 tires. In the harsh streets of New York City, the Eclipse Cross actually felt comfortable, not just well composed but also easy to drive or be a passenger in. The stereo has both touch-screen and trackpad controls, for people who hate fingerprints; and all wheel drive, with torque vectoring, is standard on any but the base model. So is a 7-inch center screen. You have to have the top SEL model, selling for a bit over $28,000, to get the heads-up display, LED headlights, and other such goodies; but most everything is standard when you get up to that realm. Even the base model has heated power mirrors and LED taillights.
The combination of modern technology and good pricing has helped boost Mitsubishi sales, which had been flagging. Jeff Holland, the U.S. director of public relations, told us that they have had five years of growth, with sales up 75% since 2012; they are estimating 120,000 sales for 2018, which is good by their recent standards if not outstanding otherwise. The Outlander is the world's best-selling — get ready for some qualifiers — all wheel drive PHEV crossover. We'll cover Mitsubishi's forays into electrified cars later, too…
It takes some courage, perhaps with some desperation mixed in, to change from one main product line to another. At Mitsubishi, it's happened mildly gradually, but today the emphasis is clearly on crossovers, with the Mirage even looking like a mini-CUV.
Stay tuned, because we're going to start covering the company's electric technologies next.