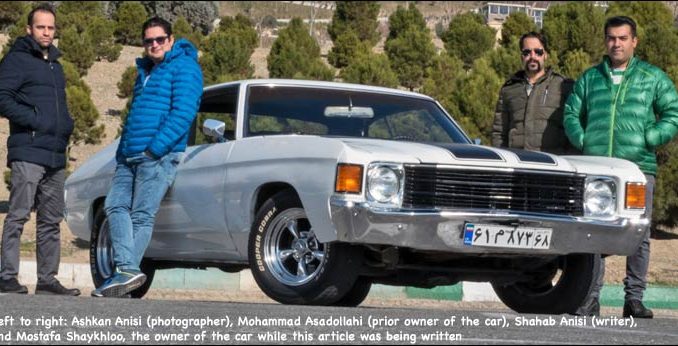 The Chevelle gained a good reputation as being one of the best-selling A-body GM cars. A mid-sized automobile in GM's collection of the giants back in that era, the Chevelle packed a perfectly-shaped Coke-bottle body design with a good range of powertrains left almost everybody satisfied.
The Chevelle nameplate was on the production line for three generations, from 1964 to 1977; after that, Chevelle's top of the line trim name, the Malibu, replaced the Chevelle nameplate as a completely distinctive downsized model, and made way up to the present in nine different generations.
Chevelle in Iran
The story of the American carmakers' presence in Iran is so long that it requires another platform to be discussed; but among the Big Three automakers of the USA, General Motors was choice number one to set up production lines of family and luxury sedans and pickups in Iran, including the Cadillac SeVille, Chevrolet Nova Gen 4, Buick Skylark Gen 3, and Chevrolet C series pickup. More exotic American cars were mostly imported to Iran, and the Chevelle was one of them, having been built in Antwerp. Therefore, there are not too many Chevrolet Chevelles in Iran. The one is being discussed here is a 1972 (Gen 2) model, kept all original in bone stock condition.
Bully Dressed in a Suit
With outer dimensions of 2845 mm long by 1915 mm wide by 1336 mm tall, the Duke's body design leaves no debates: a true muscle car look with an athletic stance, a quite settled appearance. The Chevelle is undoubtedly a good looking muscle car. However it is absolutely tough to choose the best look from the Gen 2 Chevelle's looks, as it was face lifted two times (1970 and 1971) in the second generation; that left this generation with three distinctive but beautiful faces, one better than the other.