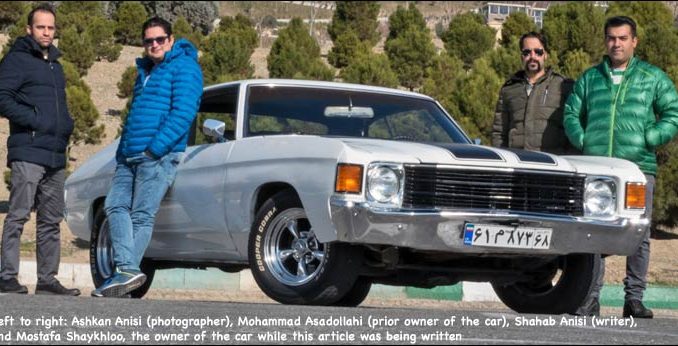 The Chevelle gained a good reputation as being one of the best-selling A-body GM cars. A mid-sized automobile in GM's collection of the giants back in that era, the Chevelle packed a perfectly-shaped Coke-bottle body design with a good range of powertrains left almost everybody satisfied.
The Chevelle nameplate was on the production line for three generations, from 1964 to 1977; after that, Chevelle's top of the line trim name, the Malibu, replaced the Chevelle nameplate as a completely distinctive downsized model, and made way up to the present in nine different generations.
Chevelle in Iran
The story of the American carmakers' presence in Iran is so long that it requires another platform to be discussed; but among the Big Three automakers of the USA, General Motors was choice number one to set up production lines of family and luxury sedans and pickups in Iran, including the Cadillac SeVille, Chevrolet Nova Gen 4, Buick Skylark Gen 3, and Chevrolet C series pickup. More exotic American cars were mostly imported to Iran, and the Chevelle was one of them, having been built in Antwerp. Therefore, there are not too many Chevrolet Chevelles in Iran. The one is being discussed here is a 1972 (Gen 2) model, kept all original in bone stock condition.
Bully Dressed in a Suit
With outer dimensions of 2845 mm long by 1915 mm wide by 1336 mm tall, the Duke's body design leaves no debates: a true muscle car look with an athletic stance, a quite settled appearance. The Chevelle is undoubtedly a good looking muscle car. However it is absolutely tough to choose the best look from the Gen 2 Chevelle's looks, as it was face lifted two times (1970 and 1971) in the second generation; that left this generation with three distinctive but beautiful faces, one better than the other.
Personally I would rather the first look of the Gen 2 as it was offered with more detail and aggressive look than the first or the second face lifts. Yet there are no complaints about the looks of the other two face lifted models as the changes were minor and done beautifully.
The 1972 model Chevelle has two rounded headlights and uses way more minimalistic front fascia but a rather more complicated rear end look, with four rounded tail lights embedded right inside the huge rear chromed steel bumper. That's why the 1971 onward Gen 2 Chevelles are better known by their rear end looks. Not all models came with two black or white stripes on the hood and trunk, but that settles the skin design finish.
We must not forget that the imported P225/60 front and P275/55 rear Cooper Cobra GT tires on American Racing chrome rims are some expensive surgical detail finishing touches that are considered seriously by restorers in Iran. I am not sure about the current price of such wheel setup, but they will cause a serious amount of money to import and duplicate these days.
Inside the cabin, everything feels more subtle than the outside, especially the soft cushion front bench seat. Even though the bench seats were some low level options back in the day, it is definitely wrong unless you have got yourself some American state cruiser and not a GT sport coupe. The seats are rather warm, soft, and nice until you try them at the corners and that's when they feel horrible! There are no side supports with these seats so if you have some drifts and donuts in mind, you had better fasten your seat belts.
The long, rectangular speedometer, lack of a console shifter knob, and hand driven windows all together show the age and low spec options of the car, yet none of them bothers a true classic lover. Jumping into the back of the Chevelle, there is enough room for two 1.75 meter adults in front and back; although the front passengers had better to move their one piece seat a bit forward to gain better legroom in the back, it is not that much that it jeopardizes the comport of the front passengers.
The Heartbeat
Talking about Chevelle, it is not possible to forget the powertrain. Big American muscle cars usually come with big engine sizes, but having a 250 CID (4.1L) pushrod straight six on the option list of the Chevelle seems ridiculous and impossible that someone would actually go for it, but here it is! It is surely a bulletproof engine, but rated at 110 HP and 251 Nm, and considering the roughly 1.6 ton Chevelle that it has to get moving through a 3 speed automatic GM TH350 transmission, the equation results are not promising.
The current owner has some tempting engine swap propositions on the table if he is about to burn some money. Iran is not open to the global market, so there are limitations in the engine department. Thanks to GM Iran production plant, there are enough GM 350 CID pushrod V8s; 383 stroker kits are expensive yet available, and even some rare import GM LSX engine are expensively at hand. The owner preferred the current powertrain setup, as it was recently overhauled and is also the bone stock day-one powertrain of the vehicle right from company. Sounds like a remarkable preservation choice but there will be not much joy with this low-spec engine setup.
The Joy Ride
Turning keys on the ignition, the engine revs immediately with no hiccups, truly remarkable for a cold carburetor engine start. The engine rumbles like a low capacity diesel engine. It is clear to anyone that an I-6 even with greatest displacement will never sound good as a pushrod V8, but the engine noise on this Chevelle is okay.
Trying Drive (D) to get this 1.6 ton beauty moving, immediately the overhauled engine and transmission started to show off. There is perfect gearing with no lag of power in its GM TH350 transmission, and almost no kick when changing gears up and down.
There are no fast launches with this 250 CID or burnouts of any kind, but the driving sense is truly satisfying considering the output power and torque, it shows how great the transmission is working. The powertrain of this Chevelle makes it a nice looking American muscle car perfect for every day drive with very good MPG if driven right. But who really cares about MPG when driving a Chevelle? That's why anything less than a 350CID V8 is wrong for a Chevelle. Anything below a 350CI was wrong for the Chevelle right from the beginning. The owner was right any way to let the powertrain be for now and swapping it when it was broken. That will be in some long time but now the setup is working perfectly fine.
The ride is pretty nice and smooth and that is because of wide track tires along with soft cushion seats also the double A-arms in front and 5-link suspension rear, both supported by coil springs instead of the rear all-time leaf springs in many other American sedans and coupes. The suspension setup is one key element of comfort and joy with all GM A-body cars.
The softness of the suspension is all good for the roughness of the asphalt in Iran but not when you get two more adults in the back. With the size of the tires increased, a little lift in the rear suspension is necessary to prevent contact between the rear tires and in side of the wheel arches. Otherwise like our Chevelle you will hear a hard scratching noise on almost every bump on the road and that means quite a lot of noises in Iran crazy asphalt condition.
The Farewell
The Chevelle was a mass production car with great production figures but it was not lucky enough to be imported to Iran as much as the little brother Gen3 Chevrolet Camaro. The global pricing of such a vehicle is easily determined, but in Iran things are not usually that clear cut! Although the V8 versions such as the SS models are considered as collectible Chevelles, in Iran, its rarity is enough to be expensive even in a base I-6 version. I am not calling any fair price for this beauty as it is not a personal property of mine, but such model could sit in ranges between 10K to 25K USD.
Owning one in this country is like riding a unicorn but needs serious attention and some full bank accounts to own and to maintain as the detailing finishes parts are rare to find and mostly requires imports. It Is more like "Break one tail light and you are dead!"
I personally thank the 1972 Chevelle owner, Mostafa Shaykhloo, my dear friend and previous owner of the vehicle Mohammad Asadollahi for sparing some friendly time with us.
As an all time motorhead, Shahab entered Iran's small society of automotive journalism industry back in 2009 while studying English Translation in university. He has written for six major automobile industry-related magazines and websites, and used to be the editor in chief of three seasonal magazines and the presenter of a video series. Due to an active childhood, he soon learned all mechanical elements and functions of every part in an automobile and headed to perform DIY on personal and close by vehicles, from brake pad replacement to carburetor tune ups and engine upgrades, cylinder head swaps to gearbox upgrades. He soon became popular among Iranian automotive journalism as one of the most knowledgeable and technical journalists who is no foreigner to mechanical and maintenance tasks, especially when it comes to American vehicles. Shahab is probably the first and only Iranian journalist cooperating with American automobile websites from Iran.
Shahab is an all-time classic car lover and Retro Design maniac but mostly digs the Detroit muscle of any kind; he was a true Mopar lover way before GMs and Fords. His family owns a 1977 Jeep SJ 258CI Cherokee Chief, 1990 Oldsmobile Cutlass Ciera S, and a Gen 3 1985 Iran-GM built Sedan Buick Skylark B3. He has spent more than 14 years with American vehicles, and yet nothing will ever replace a true American V8. He is looking for lifetime dream car — a 1970 yellow 426 Hemi Cuda with a 4 speed pistol grip shifter manual box.