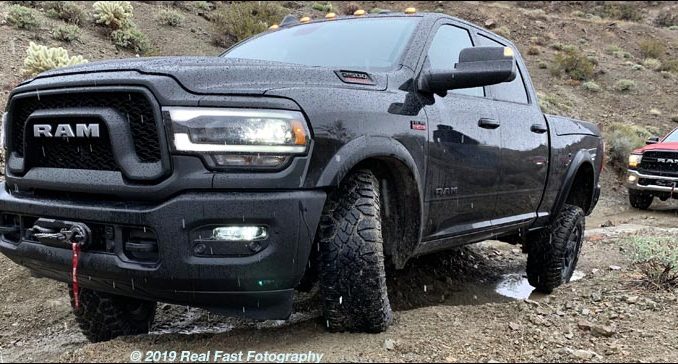 The 2019 Ram heavy duty pickup series will start at $35,090, including a hefty (and mandatory) destination fee. The starting price is for a Ram 2500 Tradesman, with a regular cab and rear wheel drive. Going up to the biggest and plushest pickup, the Ram 3500 Limited Mega Cab 4×4 with  12-inch touchscreen, jacks up the price tag to $68,745—before options, such as the first thousand-pound-foot diesel in the class.
Photos courtesy of Real Fast Fotography
Making those prices more palatable are the highest torque in the segment, the highest towing capacity (35,100 pounds), and the highest payload (7,680 pounds). The V8/8-speed combination is apparently quite easy on the gasoline, according to Mike Volkmann, with the wide gear range helping the V8 to loaf along on the highway, and the cylinder deactivation providing four-cylinder-like mileage when coasting, sitting idle, or cruising on level roads.
The standard engine is a 6.4-liter Hemi V-8 engine, coupled to an 8-speed automatic; the rarely-chosen manual transmissions are gone. Many buyers choose Rams just for the optional 6.7-liter Cummins diesel, which is another $9,100, including a 6-speed automatic. The optional 1,000 pound-foot Cummins High Output is available with the Ram 3500, coupled to an Aisin 6-speed transmission, for $11,795.
The chassis cab line (3500, 4500, and 5500) starts at $36,445, including destination.
New features (some of which are optional) include adaptive cruise control, forward collision warning, surround-view camera, trailer reverse guidance, cargo-view camera, auxiliary cameras, and a bed-lowering mode.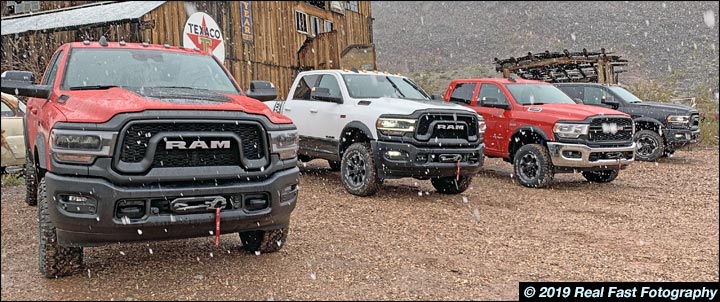 The Ram 2500 has long had better ride quality than competitors' trucks, thanks to a five-link coil suspension, with an optional air assist. The Ram 3500 uses leaf-springs, but has a supplemental air bag suspension option. The Mega Cab continues to have the largest interior of any pickup.
The chassis cabs have a segment-leading towing capacity up to 35,220 pounds, the highest gross combined weight rating (43,000 pounds), and a payload up to 12,510 pounds.
The Power Wagon has been acclaimed by critics as the most off-road-capable pickup available; it won't fit between the trees, but it certainly makes going over harsh, unforgiving terrain easy.
The interior of the Limited is quite ornate, with real wood accents.
Mopar Insiders took the various new Ram Heavy Duty pickups for a test drive—catch their impressions there (Power Wagon, Tradesman, 3500 Dually).