Photos by Shahab and Ashkan Anisi
Until around four decades ago, Iran had a roughly perfect relationship with the West. Having multiple production lines of American vehicles, including more than ten different models, helped Iran with logistics and transportation in the first couple of years of the devastating eight-year war with Iraq (1980-1988).
Iranian used a great number of American off-road capable vehicles produced in or imported to Iran before the Islamic revolution in 1979 to handle all kinds of applications, from ambulances to troop and ordnance carriers in the heat of the battle field.
Iranian-American production vehicles taken into action in Iran-Iraq war included the Jeep Shahbaz (CJ5), Jeep Ahoo (Wagoneer), and Jeep Simorgh (J series pickup), along with imports like the Chevrolet Blazer, Suburban, and C/K pickup, and some Ford pickup trucks.
Rumor has it that in most cases the civilian owner of such vehicles were ambushed right on the streets and had their vehicles were taken by force to be used in the battlefields, so many owners started to hide their lovely off roaders in order to keep them safe.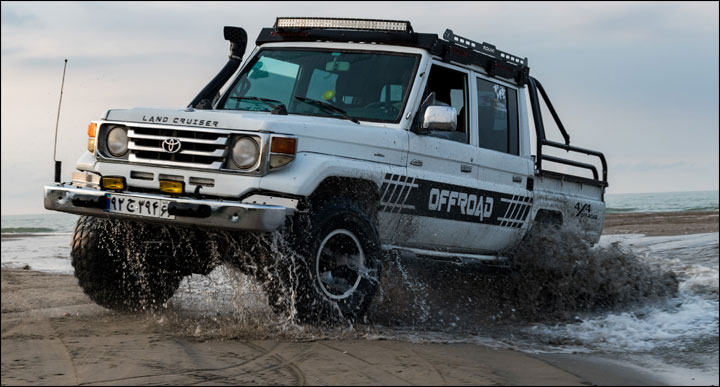 A lot of American vehicles had been destroyed already, and Iranian forces needed light war machines. Expelled from Western countries after the Islamic revolution, Iranian turned to Japan for help; Japan became a close political and economic friend of Iran, so  Toyota could also have a major role in the Iran car market.
Born in Japan, Raised in Iran
Toyota started to produce offroad capable vehicles years back, but the J40 was the first war SUV to be sold to civilians. Although Toyota confessed that it was the J60 series which first represented a real everyday civilian SUV of its Land Cruiser series, because the J40 series was more a war machines or farm vehicle than an everyday SUV, the J40 series made Toyota so popular in Iran due to the services of J40 series (FJ40, FJ45) in the final years of Iran-Iraq war and after in the total absence of American beloved SUVs.
Toyota established its first official dealership in Iran soon after the 1979 Islamic revolution and started to fill the gap created in the car market of Iran after American car makers pulled the plug on vehicle production.
Back in 1984, Toyota started the production of a new Retro series called the J70, resembling the former J40. Similarities were limited to exterior design, so much that the J70 series could be considered as one of the very first Japanese vehicles tied up with the Retrospective Design.
Unlike American carmakers, Toyota never engaged in a direct vehicle production contract with Iran, but some sort of contracts were stablished through time that consisted of some form of CKD parts imported to Iran. The vehicle being debated in this text is some sort of Iranian-Japanese made J70 series based upon those CKD parts.
Fath Car Manufacturers (Known as Fath Industries) is a governmental limited production car maker under the wings of Islamic Revolutionary Guard Corps, founded immediately after the 1979 Islamic revolution of Iran. The corporation produces limited numbers of heavy and light military based vehicles using parts coming from rather secret governmental contracts, and gives its production away usually only to government related organizations.
The productions of Fath and another Iranian governmental military based car maker, known as Morattab Khodro, are mixed Iranian built and foreign built; some parts are imported and some are produced and assembled in Iran by Iranian workers. Considering the secret nature on these government related carmakers, it is almost impossible to figure out what percentage of the vehicle was imported and what percentage was produced in house.
This and similar vehicles are considered in Iran as "Iranian Production Vehicles" but it is not clear who produces what. The best guess is that the whole 3F engine, 4 speed transmission, 4WD drivetrain, semi floating axles, and the body on frame type chassis are produced in Japan, and the whole body and interior belongings are made and assembled in Iran.
The Iranian-Japanese J70, well known as the "Toyota 3F" (nicknamed after the engine code) in Iran, was produced between 1999 up to 2006 by Fath Car Manufacturers in three different body styles of crew cab, single cab and troop carrier. The body styles are named by Fath a mix of Iranian names and the Cruiser suffix of Toyota as Alvand Cruiser, Sahand Cruiser and Kiyan respectively which in this case we are discussing the Alvand Cruiser (J79 Crew Cab body style). Alvand and Sahand are names of famous mountain peaks in Iran (3580M and 3707M of elevation respectively) and Kiyan is an Iranian boy's name which was also used as an ambulance in most governmental organizations such as the Iran's Red Cross and Red Crescent along with hospitals.
After the service years were done or some other vehicles were selected as substitutes, the vehicles were auctioned to public and that is how this very 3F Toyota Alvand Cruiser is now owned by a friend of mine in Tehran.
Exterior Design: Like Father, Like Son
Toyota emphasized that it has followed the basic principles of the J40 design characteristics to form the new J70 series. There is no wonder why many people cannot tell the difference between the two. It is easier to say that the J70 series is more like a civilized and updated J40 series by using chrome covered grill and integrated headlights in front fascia of the vehicle where the greatest evolution happened. The rest of the bodywork is a close imitation of the J40 series with angled wheel arches and solid horizontal lines along the body.
It is up to individual tastes but generally J70 series are not considered as beautiful or eye catching especially the lower models when it comes to comparison with Jeep Simorgh or Chevrolet C/K pickup trucks with more classic designs elements of the same J40 series era.
The exterior box style standard dimensions are as 5300 mm in length, 1715 mm in width and 2000 mm in height which is enormous by today standards, now add wider and higher off road upgrades like the 33 inch mud train tires riding on five spoke sport aluminum rims along with full metal heavy duty roof carrier and two inch lift kit to better feel the dimensions of this mammoth vehicle.
This almost 18-year-old crew cab pickup truck shows some serious abuse in body work especially when it comes to alignments when you look it up closely. This is not just due to the age, but also to serious production malfunctions.
I spoke online with a former production line worker of Fath Car Manufacturers, who mentioned that the molding of the bodywork of Iranian J70 series was assigned to some local mold maker shops in northern Iran. They were not equipped with appropriate  machines, tools, or expertise, but were cheap; so when the metal sheets came out of the press lines, the body parts did not even fit in the production line, so the workers had to apply some extra force and nonstandard measures to assemble the vehicle.
Interior Design: Wrapped Up in Haste
Justifying the soulless interior design with the age and era excuses, the interior still comes way short than satisfying. The dashboard is a harsh mixture of plastic parts bolted on a gray colored metal frame, like some American SUVs of the 70s and before, that actually helps it with less rattling noises even with its 18 years of age and off road uses but other low quality parts used in are so familiar to Iranian eyes.
That is because some other parts (the AC panel, door handles, upholstery, seat belts, and some others minor parts) are loaners from the famous Pride (Ford Festiva) low-budget vehicle in Iran built by SAIPA corporation, which along its newer substitutes are known as the most produced vehicle of the past four decades in Iran.
The interior build quality is poor; interestingly there is not even one single space dedicated as storage beside the glove compartment. There are no other options found inside the vehicle except the video/audio touch screen system linked with a backup camera, both added as aftermarket by the former owner.
The front bucket seats were changed before with some newer and better two way manually adjusted corner-embracing fabric covered ones but the rear bench seat with rather small leg room is the original headrest-less vinyl covered one.
Mechanicals: Built to Last
The engine is a naturally aspirated 3955cc OHV, 12 valve inline 6, fed through a two barrel carburetor. The engine is the upgrade for the former 4.2 liter Toyota 2F engine. With 200cc less displacement, the 3F produces 155 HP in 4000 RPM and 303 N.M (223 lb.ft) torque in 3000 RPM which is more than the former 2F, showing a better design and engineering.
The Toyota F series engines are the most produced engine by Toyota in three different generations, the F, 2F and the 3F series. All bearing respectable power and linier torque line suitable for SUV and Truck applications. The F series is a bulletproof I6 engine and that is because it was developed around the durable GMC I235 engine made by the General Motors.
Displacement changed by generation by 3.8L, 4.2L and 4.0L respectively. The only engine offered with fuel injection system was the 3F which was used in upper model J60 series. Nicknaming Toyotas specially the Land Cruiser series with engine codes are so natural in Iran and it first came along the J40 series with its 2F engine code and then the J70 series and models equipped with the 3F causing the nickname to overtake.
Many people in Iran mistakenly confuses the 2F and 3F with the one having 4.5L of displacement nicknamed as "Toyota 4.5 (four and half)". Those having 4.5L of displacement are actually the FZ engine series that took over the 3F later on and are mostly used on upper models of the J70 series, J80, J100, J105 and Lexus LX450 of 1996-1997. Those FZ J70 series available in Iran are considered as upper models, rare, considered as full imports and more sought after.
The 4 speed manual transmission with hydraulic assisted power booster clutch mechanism is married with a manually selectable 2 speed transfer case drives only the rear wheels because this vehicle, like most classic 4WDs in Iran, uses a set of front wheel locking hubs to manually engage or disengage the front axle, giving the vehicle a Low 2WD driving condition (instead of the standard Low 4WD) incase if more traction was needed just on the rear axle on hard solid pavements.
The whole structure is carried on a ladder chassis riding on active solid axles suspended with semi elliptic leaf springs and dampened with two hydraulic shock absorbers front and rear. The 2.1 ton empty Weight of Alvand Cruiser is supported by large disk brakes with one piston calipers up front and large diameter single cylinder drum brakes out back.
Driving Experience: Harsh and Unique
The test drive experience was done in a long distance from the shores of Caspian Sea up to the mountains of Lavasan in northern Tehran with 2300 meters of elevation, from sand and loose gravel to asphalt.
Let's begin with how hard it is to just board the vehicle with 33 inch mud train tires and 2 inch lift shackle kit. The extra handle on the A pillar and an added full length step just under the body made it way easier, yet difficult for people under 1.6 meters of height.
The engine starts easily (unless it is a cold weather—carbureted, remember?), playing a clear gasoline I6 engine note. The driving position is a bit awkward because the feet are little bit shifted left due to its huge transmission hosing tunnel coming upward from the base of the floor, leaving a rather small legroom for driver and front passenger. Nothing big but requires a little getting used to.
Shifts happen softly and normally. The two first gears show significant amount of torque carried to the wheels suitable for hauling, so much that it is even not necessary to use the first gear to start from halt. Yet the third and the fourth gear are more suitable for speeding and on level surfaces or better mileage with lower engine speeds.
The weight capacity of the Alvand Cruiser in the legal documents are declared as ¾ of a ton plus four passengers, which could roughly equal a final number of 1 to 1.2 ton. But  my friend, as the current owner, has taken the full advantage of the body on frame structure, ladder chassis and the six bolt semi floating axles and abused it up to 1.8 ton, which is respectable considering its standalone 2.1 ton empty weight.
Going from 1300 meters of natural elevation in Tehran to sea level, the vehicle naturally show an increase in power and torque of what we feel every day in comparison with 13% loss that happens in Tehran due to elevation. Quicker acceleration, faster paddle response and a bigger smile on the driver's face.
Increasing elevation up to 2300 meters on Lavasan mountain roads and back roads shows a great power loss for this naturally aspirated carbureted engine which is absolutely normal. The result is to use more of the first gear and forgetting about the fourth as the engine dies on inclines in such altitude.
With large tread 33 inch tires, the vehicle has no difficulty running over large bushes but what is very scary is that even in standard form, the height of the Alvand Cruiser is more than its width. Now with larger tires and lift kit, the central gravity of the vehicle has gone even higher and tilting tendencies are increased by a terrifying level. It is not easy to roll such vehicle over yet considering real factors and laws of physics along with the intense feeling of rolling over any seconds, it is not that difficult either. So having such setup we had to maneuver very slowly and carefully.
That serious tilting tendencies also show up drastically when turning fast on hard pavements and asphalt and that is why your instincts tell you to let go of the gas paddle and reduce speed when turning. The feeling might looks ecstatic for a few minutes but when off-roading it becomes so scary and stressful that will make you end your off-roading journey quickly.
Speeding up on highways is equal with more engine noise and more wind coming in. Remember the story of bodywork moldings? You might actually see sunlight coming in from the huge cap between the door hinges and that is not a joke. The suspension system is extremely similar to those other competitions like the Jeep Simorgh (Jeep Gladiator and J Series) but it is way rougher and that gives a bizarre and uncomfortable driving experience especially if you are seated in the back seat going over a puddle or a sudden speed bump or even worse, when off-roading.
Sum up
It is not about whether I liked it or not but I seriously did not like it and that is God's honest truth. Alvand Cruiser is a half and half quality vehicle that goes by a considerable price tag considering the low quality downfalls. I am not speaking about the dollar value but that is enough to say it is at least 30% to 50% more expensive than a Jeep Simorgh, Cherokee Chief, or a Chevrolet Blazer.
Yes the parts are easier to find and probably cheaper to maintain but the vehicle is far from options, quality, and comfort. It is only a four wheeler with great off road capabilities. If you buy it you must get along with its quality defects and believe in it and the nature of its production which is having fun when offroading.
The owner wanted a crew cab off road capable pickup truck, going after such class in Iran the choices are extremely limited. A couple of Chinese picks along with the former Nissan D22 pickup assembled in house by Pars Khodro or the low quality sport truck known as Pazhan (or Pajan: a 4 door short bed sport truck based on body and parts of Land Rover Santana of Spain) built by Morattab Khodro is all he could have found out there. Among these limited choices, this Alvand Cruiser was indeed the first and last pick he could ever make.
I appreciate the warm cooperation of by close friend Farzad Rahbarzadeh to give me the opportunity for a long run test drive of Alvand Cruiser and also Mehrdad Afshar, Kourosh and Ashkan Anisi to provide the whole setting of such test drive.
Previously released in Persian on Bama.
As an all time motorhead, Shahab entered Iran's small society of automotive journalism industry back in 2009 while studying English Translation in university. He has written for six major automobile industry-related magazines and websites, and used to be the editor in chief of three seasonal magazines and the presenter of a video series. Due to an active childhood, he soon learned all mechanical elements and functions of every part in an automobile and headed to perform DIY on personal and close by vehicles, from brake pad replacement to carburetor tune ups and engine upgrades, cylinder head swaps to gearbox upgrades. He soon became popular among Iranian automotive journalism as one of the most knowledgeable and technical journalists who is no foreigner to mechanical and maintenance tasks, especially when it comes to American vehicles. Shahab is probably the first and only Iranian journalist cooperating with American automobile websites from Iran.
Shahab is an all-time classic car lover and Retro Design maniac but mostly digs the Detroit muscle of any kind; he was a true Mopar lover way before GMs and Fords. His family owns a 1977 Jeep SJ 258CI Cherokee Chief, 1990 Oldsmobile Cutlass Ciera S, and a Gen 3 1985 Iran-GM built Sedan Buick Skylark B3. He has spent more than 14 years with American vehicles, and yet nothing will ever replace a true American V8. He is looking for lifetime dream car — a 1970 yellow 426 Hemi Cuda with a 4 speed pistol grip shifter manual box.