By now you've heard about the big launches in New York City. The GMC Sierra was first, launching before the show; the Toyota RAV4 was probably most important, given that hundreds of thousands are sold in the US each year. But there was much more.
Reveals include a Genesis concept, the Lincoln Aviator "production preview," the Volkswagen Atlas Tanoak pickup concept and Cross Sport concept, the Cadillac XT4, Nissan Altima, Land Rover F-Pace, Acura RDX, Hyundai Kona electric crossover, Audi RS 5, Kia K900, Mercedes C63 AMG, Lexus UX, Subaru Forester, Honda Insight, Volvo V60, Maserati Levante Trofeo, Kia Sedona, Hyundai Santa Fe, and Acura MDX A-Spec, along with a couple of special editions.
The New York Auto Show is a bit smaller indoors this year, with the outbuilding closed off for construction, but Camp Jeep was in full force, along with the Camry Thrill Drive. This time, the Camry Thrill Drive did provide a thrill — albeit just one, as the test driver slammed on the gas and swerved between closely spaced cones to prove that the car is no longer a poorly-handling sofa on wheels. The ride also included reverse donuts and some neat trick driving, coupled with showing off the 360° camera system. This is not the dull, unrewarding Camry I remember from a few years back — it's much closer to the well-done, mildly sporty Camrys I remember from many years back.
Of course, for thrills, it's going to be hard to beat Camp Jeep, which has an eighteen foot tall, 35° ramp, manmade potholes, stair-steps, and a couple of horizontal-and-vertical torsion setups. Two of the "obstacles" are made of slippery steel grids, so it's a pretty tough course for an SUV. It would be interesting, but expensive, to bring competitive vehicles into the course — but that wouldn't just involve towing, it would most likely involve quite a bit of bodywork and replacement glass due to the twisting force on the body. This is the closest thing New York has to the London Eye.
Another area for fun is the Dodge Challenger Demon drag races — you get three tries to launch down a simulated track, in a real Challenger body with various shakers and levelers to give the feeling of being in an 840-horse muscle car which lifts the front wheels up when you launch.  Volkswagen has a similar race, except instead of dragging down the quarter mile, you're in a Golf on a road course. The only annoyance in this, depending on who's in the other car, is that crashes don't matter much; so it actually works better to go as fast as you can, and crash around the corners. It's a fun game, though, and the steering wheel is relatively realistically weighted, compared to past driving games. You only get one round, but it's three laps.
Moving on to the actual cars, there were quite a few specials, including this lovely high-performance Lexus, done up in a neat matte paint job, inspired by the old 1970s Novas and Camaros of our youth. The special primer gray paint neatly augments the electric-shaver-inspired grille.
The most impressive display area goes to Cadillac, which took an enormous amount of space to show off the new CT6, which is powered by your choice of two brand new twin-turbocharged V8 engines.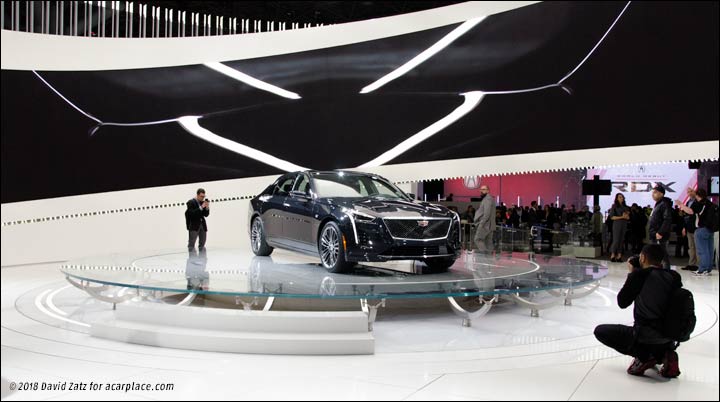 We spent a little time in a Fisker Karma — more on that to follow. Personally, I was impressed by some clever features of the new Mazda CX-6, including putting the subwoofer into the spare tire — so it didn't take up any real trunk space; and having a real heads-up display, though the windshield has no "reflection square." Mazda's going in for heads-up displays in a big way, which is a long-overdue move.
The new Maybach turned heads, largely due to the two-tone paint. The uninspired generic grille may have come right off any number of cars; indeed, it's a mildly forgettable design outside once you get past the paint, though the interior is gorgeous in quilted, padded leather and wood. The last Maybach didn't come close to projected sales, but that may have been because it looked exactly like an S-series from the outside.
Volvo's two-story display is always interesting — an office underneath, a car above. It's a good way to conserve space at an expensive show — especially in a year with less space than usual.
The New York City Police Department normally sends over a large display of vintage and modern police cars; this year, we just got a hybrid-electric street-sweeper truck from the Department of Sanitation. I wonder if they have enough logos and mottos on the side?
The Volkswagen Atlas Pinoak pickup may have an odd name, but you have to love the lighted grilles. It's only a concept at this point, albeit "near production." VW wants to dramatically boost its US sales, but will a pickup with a unibody design and practically no bed really work? I guess we'll find out in a couple of years.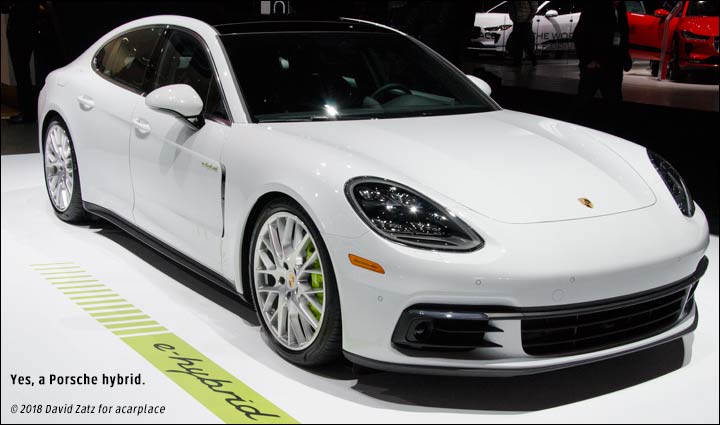 The Porsche Hybrid shows our brave new world — getting braver all the time, as Chinese electric supercars displayed at the show demonstrates.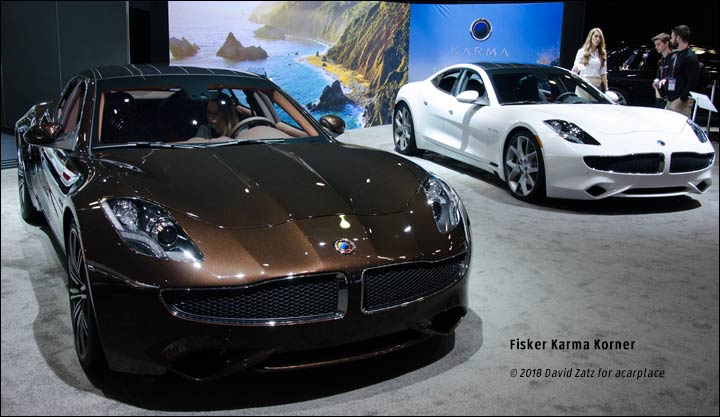 One of the Chinese electrics started out as an American car — the Fisker Karma. They had a small display in a pocket of the show, but the cars are beautiful inside, and got some passing traffic. As Tesla gives up on interior controls, Fisker, at least, still has them.
We'll have more from the show in the upcoming days; if you're going, don't drive (yes, I see the irony)! It's a crowded area and the parking lots have absurdly high fees. The subway's 7 line (handy from the Port Authority and Grand Central) goes quite close to the entrance, and the show is convenient to the ferry and Penn Station.
More to come…